UNICEF Promotes Syrian Children's Resilience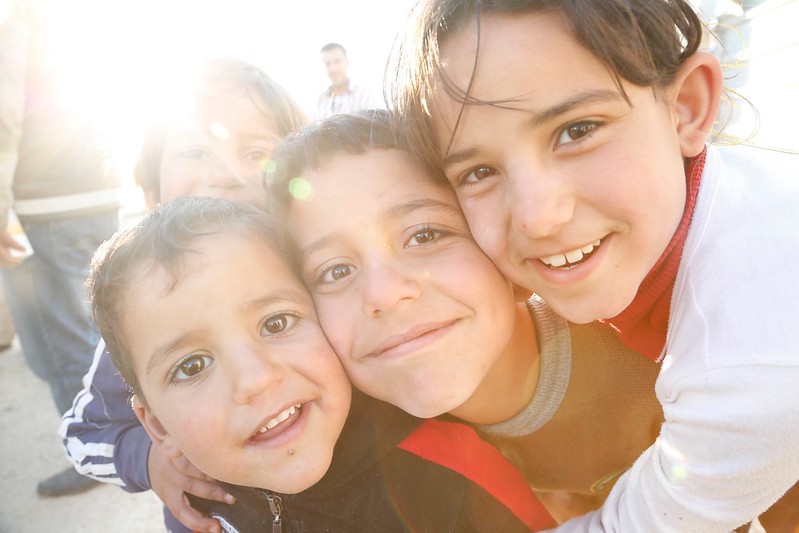 For much of the world's youth, guns, bombs and rubble describe a scene from a war video game, but these circumstances are a reality for Syrian children. Nearly six million Syrian children have known nothing but war. Over 4.8 million were born into the Syrian conflict with one million more born as refugees after their families fled from conflict-riddled countries. However, despite these challenges, Syrian children's resilience shines above and beyond their difficulties.
UNICEF, arguably the organization providing the most vital humanitarian assistance to Syrian children, requested $1.4 billion in 2021 to provide the necessary aid to those it serves. The Borgen Project spoke with Salam Al Janabi, Chief of Communications for UNICEF in Syria, who stated that "This past year we saw a 20% jump in the numbers of children in need. The triple crises of conflict, COVID-19 and a crushing economic crisis are really pushing children and families over the edge." However, hope still exists, because Syrian children's resilience is amazing despite their devastating living circumstances.
The Life of a Syrian Child
What is it like living as a child amid the conflict in Syria? Here are a few of the most startling statistics:
About 80% of Syrian children live in poverty.
The number of displaced children has doubled since 2012, reaching 2.6 million in 2020.
Nearly 12,000 children have been victims of death or injury since the start of the conflict in 2011. This means, one child has suffered injury or death every eight hours for 10 years, amounting to about 12,000 children. Unfortunately, the U.N. has predicted that this number could be much higher.
Between 2011 and 2020, militants recruited more than 5,700 children as child soldiers. Many of these children were no more than 7 years old.
Close to 3.5 million Syrian children are unable to attend school. Girls make up 40% of those without access to education.
Many children and their families have fled violence more than seven times, usually finding shelter in tents and unfinished buildings.
Hyperinflation and the country's intense instability continue to breed catastrophe for Syrians. The price of a basket with the most basic food staples increased by 236% while the Syrian pound dropped by 78%. This staggering figure is forcing parents to put their children, as young as 7 years old, to work for meager wages to help feed the family.
UNICEF
Amid the ongoing violence, UNICEF continues to offer life-saving support to Syrian children. In 2020, UNICEF and its partners provided crucial support, such as:
Screening 2.6 million women and children for malnutrition.
Improving water supply for more than three million people.
Vaccinating more than 2.5 million children under 5 years old against polio.
Supporting the education of 2.2 million children.
Ensuring the continuation of services by providing PPE to healthcare workers, schools and NGOs.
In 2021, UNICEF hopes to give more than three million polio vaccinations and further expand access to safe, clean water. It will continue to provide explosive weapons risk education to young people and offer nutrition guidance to those providing care to infants and young children.
Prioritizing Education
Al Janabi told The Borgen Project, "I think what cannot be emphasized enough is how much parents here in Syria value education. Even in some of the remotest, most destroyed areas we have been to, parents will tell you that they need a school for their children." Prior to the conflict, enrollment rates were consistently 97% or higher. In 2020, more than 3.7 million Syrian children received access to formal and informal education opportunities as a result of UNICEF and its partners' assistance.
Education is vital for any child. However, education is absolutely vital for Syrian children. The schooling they miss not only affects their social and mental development but also holds their futures hostage. "The triple crisis" is a lot to contend with; however, even among these extremely challenging circumstances, Syrian children's resilience continues to inspire.
Saja's Story
To say that living in Syria as a child is challenging is a vast understatement. Nonetheless, these children carry with them infinite hope for the future. One of these children is Saja, who was just 7 years old when the war began. At age 11, Saja suffered serious injury from a bomb explosion. She lost four young friends and her leg that day. Her brother lost his life during a bombing raid. Her family relocated several times to escape the escalating violence.
UNICEF interviewed Saja at the age of 12. She spoke of the joyful life she experienced prior to the war and her passion for learning. She said she has to walk a long way to get to school which is difficult for her due to her injury. However, looking into the camera and speaking through a wide grin, she said, "It's a struggle, but what else can you do?" Now 18, Saja says she never loses hope. Her great love of sports, soccer in particular, and school helped her overcome the difficulties that filled her childhood. She dreams of studying literature and physical education.
Hope for the Future
Children like Saja exist throughout Syria's wartorn cities. Resilience has woven into the fabric of many of these childhoods. Children who refuse to give in to their circumstances instead seek to rise above them. Speaking to Syrian children's resilience and courage, Al-Janabi stated that "Yes, they need our support and help but they also show us that they have it in them to get through this. The world cannot keep letting them down." The enduring work UNICEF is doing offers a glimpse of normalcy and the organization has no intention of slowing down. While it is difficult to fathom the seriousness of the crisis in Syria, the children living through it are the true heroes in every story of this conflict.
– Rachel Proctor
Photo: Flickr
https://borgenproject.org/wp-content/uploads/logo.jpg
0
0
Kim Thelwell
https://borgenproject.org/wp-content/uploads/logo.jpg
Kim Thelwell
2021-05-30 01:30:29
2021-05-31 17:03:06
UNICEF Promotes Syrian Children's Resilience