Five Ways to Help Stop Desertification of the World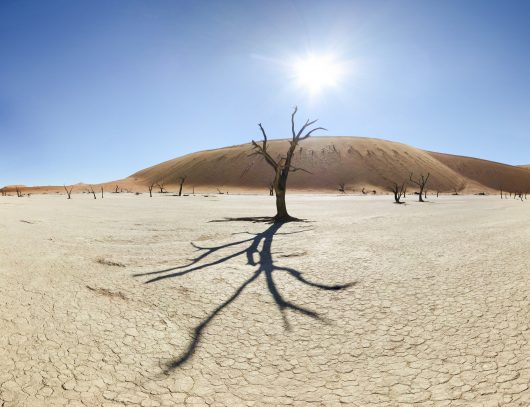 Drought, deforestation and climate change. All of these contribute to the extreme global issue known as desertification. According to the environmental campaign Clean Up the World, desertification is the degradation of land in drylands, which affects all continents except Antarctica. Approximately half of the people worldwide who live below the poverty line live in affected areas.
The result of desertification is barren land that cannot be used for crop and food production or other agricultural purposes. Prevention methods have been introduced and tend to be more successful than attempts to restore already damaged regions, which can be costly and yield limited results.
Land and water management: Sustainable land use can fix issues such as overgrazing, overexploitation of plants, trampling of soils and irrigation practices that cause and worsen desertification.
Protection of vegetative cover: Protecting soil from wind and water erosion helps to prevent the loss of ecosystem services during droughts.
Alternative Farming and Industrial Techniques: Alternative livelihoods that are less demanding on local land and natural resource use, such as dryland aquaculture for production of fish, crustaceans and industrial compounds, limit desertification.
Establish economic opportunities outside drylands: Unpacking new possibilities for people to earn a living, such as urban growth and infrastructure, could relieve and shift pressures underlying the desertification processes.
Great Green Wall: Eleven countries in Sahel-Sahara Africa — Djibouti, Eritrea, Ethiopia, Sudan, Chad, Niger, Nigeria, Mali, Burkina Faso, Mauritania and Senegal — have focused efforts to fight against land degradation and revive native plant life to the landscape. The initiative, managed in part by the Global Environment Facility (GEF), plants a line of trees as a sustainable way of regenerating the parkland and serves as an example for other problematic locations.
Such large-scale environmental complications may seem troubling to deal with, but the outlined methods and many more make all the difference, giving individuals an idea of how to stop desertification.
– Mikaela Frigillana
Photo: Flickr
https://borgenproject.org/wp-content/uploads/logo.jpg
0
0
Borgen Project
https://borgenproject.org/wp-content/uploads/logo.jpg
Borgen Project
2016-12-13 01:30:17
2020-05-20 16:46:42
Five Ways to Help Stop Desertification of the World