SKYE Program Boosts Guyana Youth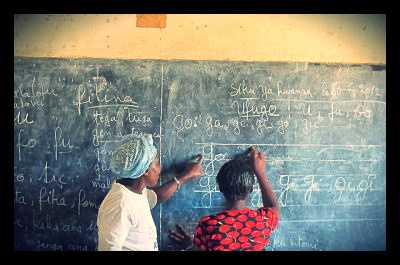 President Barack Obama's Caribbean Basin Security Initiative (CBSI) was implemented in the early part of this decade. The United States is working with nations in the Caribbean on substantially reducing illicit trafficking, increasing public safety and security and promoting social justice.
SKYE
SKYE, or The Skills and Knowledge for Youth Employment, program was a direct result of this initiative. It is funded by USAID, managed by the Education Development Center and works with private sector partners, government ministries, community agencies and NGOs.
Their goal is to train and educate the community's youth in the areas that have been identified as priorities by public and private sector employers in Guyana. Those areas are communications, personal development, local labor laws and financial literacy.
SKYE works with the local youth that are school dropouts, youth who have completed formal education or training but do not have the necessary skills to find employment, and youth involved in the juvenile justice system. Not only does SKYE train these youth, but it sees them into the working force through the use of "employment coaches."
It is often easy to train the youth, but to see them into the workforce is the daunting task. That is why many employment coaches stayed paired with their youth until they find work. As of June 2014, more than 1,100 youth have completed SKYE's work readiness training and 400 graduates have already found employment.
Popularity and Success
The program has become so popular and received such a reputation for producing work-ready employees with positive attitudes that BK Quarries, one of the region's largest employers, recently asked for twenty more SKYE graduates after hiring fourteen.
An April 2004 SKYE graduation ceremony, in which 57 youth graduated, was led by the U.S. ambassador to Guyana, D. Brent Hardt. In the ceremony's opening speech, he said that SKYE was focused on "strengthening an environment that facilitates youth development, supporting the reintegration to society of high-risk populations, supporting Guyana's youth in their efforts to find employment or start their own businesses, and supporting the greater engagement of young people as active Guyanese citizens."
Fiona Wills, who directs SKYE, credited the program's success to its emphasis on providing youth with one-on-one support and letting each one decide on a path that interests him or her: "Everything we do is about empowering young people to help themselves."
With this momentum, the program will only continue to move forward at its empowering pace, as it is targeting the right demographic. For there to be a better tomorrow, in any country, we need to focus on breaking the preconceived notions of the youth.
Poverty, and the constraints it invokes, needs to be shown to be breakable. If the youth of a country can't break free of the poverty cycle through employment programs and other aids, then that country is permanently stuck in poverty's grip. With programs like SKYE in effect, the world has a better chance of elevating all of its citizens to a place where they can provide their own food, shelter, and clothing.
— Frederick Wood II
Sources: InterAction, Guyana Times, Embassy of the United States, USAID Blog
Photo: Flickr
https://borgenproject.org/wp-content/uploads/logo.jpg
0
0
Borgen Project
https://borgenproject.org/wp-content/uploads/logo.jpg
Borgen Project
2014-10-25 04:00:31
2020-08-21 21:16:54
SKYE Program Boosts Guyana Youth