Skin Deep: Embracing Color Will Eliminate Skin Bleaching in Africa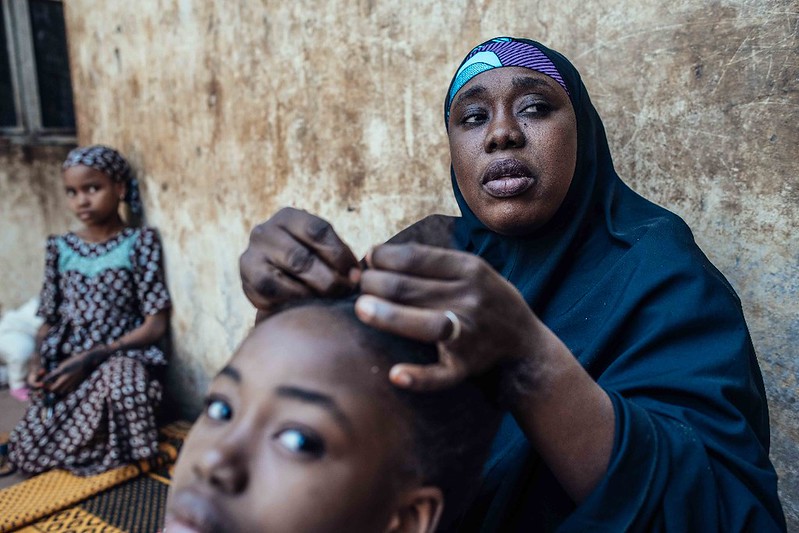 The continent of Africa is revered as one of the most diverse continents on Earth, toting genetic, linguistic, cultural and phenotype diversity. Unfortunately, some of that diversity is lost when beauty standards are dictated by other cultures that are not native to Africa. Skin bleaching in Africa is one result. While many African women prefer to refer to this method as "heightening your glow" or "skin lightening," it involves skin bleaching. Market trends project these bleaching products, many containing mercury, will make $31.2 billion in profits by 2024.
A Legacy of Colorism
Skin bleaching in Africa is not a new beauty phenomenon. The practice finds its roots in the transatlantic slave trade and continued during the European colonization of African nations. The caste systems that entitled European slave owners and traders to reduce African blacks to indentured servants perpetuated disparities in political status, wealth and beauty, furthering discrimination based on skin color.
The legacy of racist views which positions white Europeans as superior has remained a structural belief system among the women who choose to use the skin lightening products. They believe that darker skin is associated with unsatisfactory traits such as inferior beauty, education and social class. In other words, darker skin is stereotypically associated with a life of economic disadvantage and struggle. Consumers of these bleaching products, wanting fairer skin, believe they will achieve a higher level of social capital, be viewed as "pure" and more desirable for marriage.
Doctors who have studied the phenomena of skin bleaching in Africa have concluded that while some women bleach their skin for vanity reasons, others are very calculative in their decision. The retailers selling these products sometimes refer to and promote skin lightening creams as "up-marketing" one's appearance. The pay-off comes in the form of job security, progress, and power. Skin bleaching in Africa is therefore a business-oriented decision. Anecdotally, the appearance of lighter skin means faster and easier access in landing higher paying jobs, particularly in sales and marketing.
Education Is Key: Addressing the Trend as a Public Health Problem
The messaging surrounding these products, whether via word of mouth or straight from the packaging, appear to be working. Data collected by the World Health Organization (WHO) determined that 40% of African women regularly use skin lightening or bleaching creams. The trend is not isolated to one specific region either. Nigeria leads the purchasing trend with 77% of women using skin bleaching products (cream and non-cream based), followed by 59% in Togo, 27% in Senegal and 25% in Mali. It's estimated about one of every three women in South Africa uses the products, even though mercury-based products have been banned in the country since the late 1970s.
The modality for these products used in skin bleaching in Africa varies by age group as well. While the older generation prefers lotions and creams, the younger generation opts for injections and pills such as glutathione capsules. More concerning is pregnant women's use of glutathione capsules to manipulate the skin tones of unborn children.
Common health issues related to regular use of skin lightening products are mostly topical, but nonetheless dangerous. The most common side effect of topical lotions and creams is skin thinning due to the high-dose steroid, hydroquinone and mercury ingredients. Other effects include burning, scaling, scarring and boils. These applied products can also trigger further skin discoloration, also known as exogenous ochronosis, or blue-black pigmentation of the affected areas. Other, more serious health issues including blood cancers like leukemia and cancers of the liver and kidneys have prompted doctors monitoring the skin bleaching trend to call the phenomenon a public health crisis.
Appreciating Natural Beauty
African nations spread across the continent are moving toward full or partial bans against skin bleaching creams and lotions, citing their dangerous topical and chronic health implications. Most notably, the countries of Rwanda, Ghana and the Ivory Coast have banned these products. More recently, the #BlackLivesMatter protests have prompted top beauty and skin brands such as Unilever and Johnson & Johnson to scrub manipulative marketing and even pull some products promoting fairer skin from their portfolios.
Unfortunately, skin bleaching in Africa is persistent, even in countries where these products are banned. Many experts and medical professionals assert that in order to fully eliminate the skin bleaching industry, the idolatry of fair or white skin needs to be eliminated. In other words, we must create a world where dark-skinned women are welcome in all spheres of society, not discriminated against. Thankfully, a number of nonprofit organizations, including The Beautywell Project and Melanin Foundation, are tackling skin bleaching in Africa and its harmful effects.
– Vicki Colbert
Photo: Flickr
https://borgenproject.org/wp-content/uploads/logo.jpg
0
0
Kim Thelwell
https://borgenproject.org/wp-content/uploads/logo.jpg
Kim Thelwell
2020-09-11 06:55:01
2020-09-11 06:55:01
Skin Deep: Embracing Color Will Eliminate Skin Bleaching in Africa