Hydroponic Systems: Food Security in Developing Countries

Hydroponic systems use water and nutrients to grow high-yield crops through a sustainable method that does not require soil. As an agricultural alternative, it uses less water and boosts local markets by providing food security. The methodology also creates opportunities for additional income in developing regions.
While advanced hydroponic systems remain impractical for some developing regions there is an alternative, simplified hydroponics growing system. Such a system is accessible with training and a small initial investment. Yields from simplified systems are lower than advanced systems but still outperform traditional farming methods and use 80 percent less water.
Simplified hydroponics can be taught to farmers and individuals with no prior knowledge. These farmers can generate income from small plots of land with vertical farm tools, even in urban areas. New jobs and farms supported by hydroponics contribute to a green economy.
The World Bank sees the potential for simplified hydroponic systems. Jonathan Coony, Program Coordinator for the Climate Technology Program at the World Bank writes, "These sustainable techniques enhance climate resilience while creating local jobs and fostering regional investment."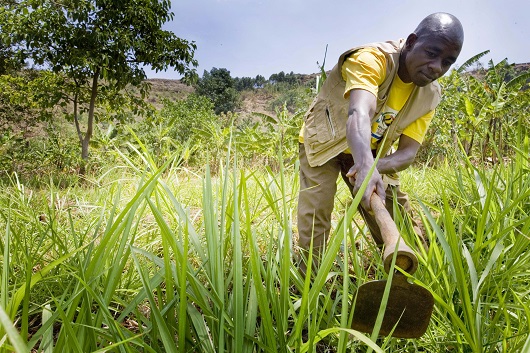 Research by students at MIT also noted that materials such as fish tanks, ceramic and aluminum containers can be appropriated into hydroponic systems at a low cost. In addition, some materials, especially in simplified hydroponic systems, can be locally sourced.
A pilot program for low-resource communities in Ecuador utilized simplified hydroponics to improve nutrition, especially among children. The diet of most poor Ecuadorians contains little to no fruits and vegetables.
Practical Hydroponics & Greenhouses published a report of the pilot program, which organizers saw as an opportunity to improve nutritional options with simplified hydroponics.
The program's objective was to consistently provide high-quality vegetables and train the community on how to use hydroponic systems. After two years, the program concluded and the report affirmed the viability of simplified hydroponics as "an effective alternative for integration into food security."
Hydroponic systems can be utilized to grow crops for livestock as well. Hydroponics Kenya, a Nairobi-based company, sells hydroponic supplies and systems to the local community. According to the company, a 6m x 9m area can produce 500kg or 1,100lbs of fodder for livestock.
Hydroponics Kenya founder Peter Chege has been recognized by several NGOs for his innovations modifying hydroponic systems for the Kenyan climate with fabric and specialized trays. His business is growing and hiring more employees, "We are recruiting, and every week we sell five hydroponic systems," Chege said.
– Cara Kuhlman
Sources: InfoDev, Mission 2014 at MIT, Practical Hydroponics & Greenhouses, The World Bank
Photo: Flickr1, Flickr
https://borgenproject.org/wp-content/uploads/logo.jpg
0
0
Borgen Project
https://borgenproject.org/wp-content/uploads/logo.jpg
Borgen Project
2015-12-15 01:30:48
2020-06-24 20:50:07
Hydroponic Systems: Food Security in Developing Countries