Shoes for the Homeless: Putting Their Best Foot Forward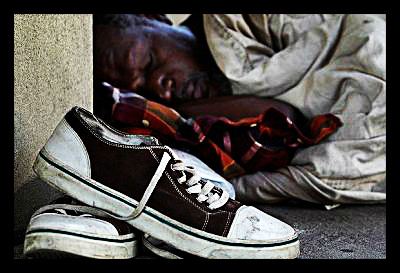 According to a report from the National Center on Family Homelessness, in 2010 there were more than 1.6 million homeless children across the span of the U.S.
Lacking any sort of permanent residency, these children often stay on the streets, in shelters, motels, cars and abandoned buildings.
At the age of five, a young boy by the name of Nicholas Lowinger visited a homeless shelter with his mother. His excitement to show his new light-up sneakers to the other children was apparent, but his mother advised him not to do so.
After interacting with the children at the shelter, Nicholas soon realized that they were living under conditions quite different from his own. Lowinger recalls seeing children whose shoes were tattered, worn, and falling apart. Or there were the extremely unfortunate individuals who had no shoes at all.
Now the age of 15, Nicholas says, "I have been very fortunate to grow up in a family that is able to provide me with whatever I need. A lot of kids here in the U.S don't have the same opportunities."
Following this visit Nicholas began to donate his older shoes to local shelters. Although he made an effort, he soon realized that his donations were not as helpful as he had hoped.
Due to the lasting impression that his first visit to a homeless shelter left and his desire to make a difference, at the age of 12, Nicholas began a program that donates new shoes to children who are homeless.
"Homeless children shouldn't have to worry about how they'll be accepted or how they'll fit in," Nicholas said. "They shouldn't have to worry about not being able to play sports or go to school because they don't have a pair of shoes."
Initially, the program began as a part of a community service project, building up to his bar mitzvah. Noticing the difference that was being made, though, Nicholas wanted to ensure that the program would go on even after his bar mitzvah ceremony ended.
With the assistance of his parents, Nicholas began the Gotta Have Sole Foundation. Since it's start-up, this organization has provided more than 10,000 children with new footwear, in over 21 states.
"New shoes can make a child feel good about him or herself. They gain confidence; they're able to do better in school," Nicholas said.
In the Lowinger family garage, one would find an abundance of new shoes that have been donated by footwear companies, stores, and individuals. Any size or style that they do not already have is acquired through the organizations monetary donations.
Over 1,000 volunteers help with this organization, and Nicholas himself works 15 hours a week on it. Nicholas thoroughly encourages young individuals to not allow their age to get in the way of achieving their dreams.
– Samaria Garrett
Sources: CNN, Gotta Have Sole
Photo: 100k Homes
https://borgenproject.org/wp-content/uploads/logo.jpg
0
0
Borgen Project
https://borgenproject.org/wp-content/uploads/logo.jpg
Borgen Project
2014-02-12 13:28:41
2017-11-30 10:53:16
Shoes for the Homeless: Putting Their Best Foot Forward