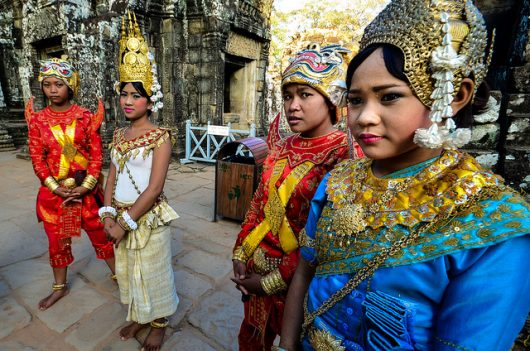 Cambodia is a country in Southeast Asia known for sex tourism. With the highest rate of HIV infection in Asia, sex workers in Cambodia are likely to contract HIV, which causes AIDS.
An estimated 10 to 40 million women sell sex around the world, the majority of whom are mothers looking for a way to support their families. In Cambodia, where 36% of the population lives below the poverty line and only 30% of girls attend schools, women are desperate to make a living for themselves and their families. Girls from poor, rural families come to cities where they can make a living in the sex industry. The average age of sex workers is 29.
Abortion and AIDS are the most common cause of death among sex workers in Cambodia. According to a study by Global Health Promise, a nonprofit based in Portland, sex workers are 12 times more likely to be infected with HIV than other women. HIV is passed from mother to child to during pregnancy, and children of sex workers are most likely to die from AIDS than any other cause.
Unprotected sex in brothels and entertainment hubs in Cambodia is common. Although abortion is legal in Cambodia, public clinics often do not provide the procedure. Women are forced to use other methods and may use traditional practices like deep massage abortion, which can cause fatal hemorrhages.
With in the next five years, it is expected that 200,000 children in Cambodia will be orphaned by AIDS, and at least 15,000 will be HIV-positive. Life-saving AIDS drugs cost $500 per year for a child. Drugs provided by the World Health Organization (WHO) are received by only 3,000 people out of the 170,000 infected with HIV.
With the assistance of the WHO, the Cambodian government is making efforts to reduce and treat HIV among sex workers. The 100% Condom Use Program (CUP) Pilot Project aims to prevent the transmission of HIV from high-risk groups, including sex workers, to low-risk groups, like housewives. It also aims to control STIs through condom use and provide access to outreach programs for all sex workers.
Organizations like Hope for Justice recognize the importance of education and have established schools for sex trafficking survivors. Sunrise New Hope is another organization that is working to restore hope, dignity and promise to sex workers and provides free education, medical and welfare services.
A commitment by local authorities is needed to help stop the spread of HIV.  Moreover, girls must have access to education to be able to find other employment with which they can support their families. Working to eliminate poverty is key to reducing the spread of HIV among sex workers in Cambodia.
– Aishwarya Bansal
Photo: Flickr
https://borgenproject.org/wp-content/uploads/The_Borgen_Project_Logo_small.jpg
0
0
Borgen Project
https://borgenproject.org/wp-content/uploads/The_Borgen_Project_Logo_small.jpg
Borgen Project
2017-07-23 01:30:18
2020-06-11 09:19:44
Sex Workers in Cambodia