Rwanda is Growing Its Knowledge-Based Economy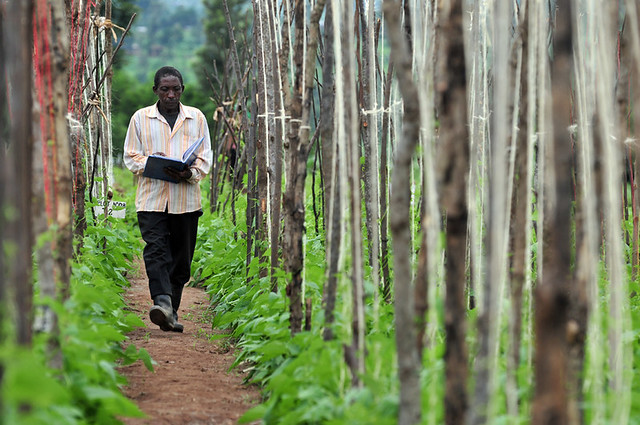 Rwanda is growing its knowledge-based economy. The country has produced substantial developmental gains since the genocide and civil war in 1994. It has reduced its poverty by about 12 percent, achieved food security and produced more results towards its goal of becoming a knowledge-based economy. Rwanda's Government focus has been on developing the economy and reform in the financial and business sectors. Foreign aid focus, from groups such as the United States Agency for International Development (USAID) and the World Bank, has been in improving trade, productivity and investments in their agriculture sector.
The World Bank Programs
Currently, there is a lot of on-the-ground investment in irrigation in Rwanda. Agriculture accounts for 33 percent for Rwanda's Gross Domestic Product (GDP), represents almost 80 percent its labor force and generates almost half of its export revenues. However, according to the World Bank, the population density, hilly terrain and soil erosion have inhibited progress in this pillar of its economy. The Rural Sector Support Project (RSSP) and the Land Husbandry, Water Harvesting and Hillside Irrigation Project (LWH) have allowed the World Bank to increase the productivity and commercialization of hillside agriculture.
The RSSP project will consist of a 14-year period that will unfold in three phases. The phases mainly consist of strengthening Rwanda's institutional, technical, local, agricultural research and infrastructure capacities. The LWH uses a reformed watershed approach that works to improve soil health. Rwanda's uneven rainfall puts limitations on its agricultural productivity, so the project will also develop new water-harvesting infrastructure, such as valley dams and reservoirs among other benefits for more effective crop production.
The World Bank has also been the leading financier for initiatives to expand Rwanda's electricity and energy sectors. The World Bank has been actively supporting the government with these initiatives through the Rwanda Energy Sector Development Project (ESDP). It has provided Rwanda with $125 million and $95 million for the Rwanda Electricity Sector Strengthening Project (RESSP). A few overarching goals of these projects are containing fiscal impact within the electricity sector and the overall improvement of electricity service.
USAID Programs
USAID works closely with the Government of Rwanda to increase and promote its trade through several programs. Through the East Africa Trade Investment Hub (EATIH) programs, Rwanda has been building its trade capacity, improving the private sector and creating better market access and opportunities for trade facilitation.
In 2016, USAID was able to create the Rwanda African Growth Opportunity Act (AGOA). The AGOA has emphasized regional and bilateral efforts to strengthen Africa's economic competitiveness and aid countries to leverage trade opportunities.
All of these benefits support the ways that Rwanda is growing its knowledge-based economy. These program strategies, initiatives and results represent the "small steps" of turning a country around from poverty. The interdependency between Rwanda's government and foreign aid shows the relentless efforts being made to downsize global poverty. It has also formed a strategic collaboration that is breeding progressive results.
https://borgenproject.org/wp-content/uploads/logo.jpg
0
0
Kim Thelwell
https://borgenproject.org/wp-content/uploads/logo.jpg
Kim Thelwell
2019-06-13 17:36:23
2019-06-13 17:36:23
Rwanda is Growing Its Knowledge-Based Economy