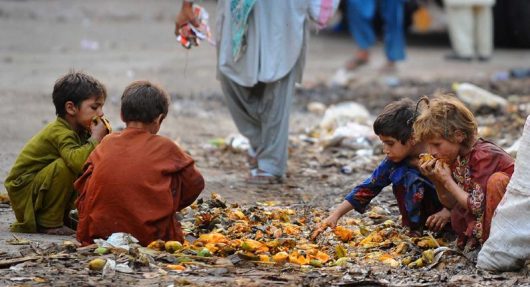 On June 3, Minister for Finance Ishaq Dar presented budgetary proposals for the fiscal year of 2016-17. Dar plans to focus on reducing poverty in Pakistan by boosting the agriculture industry.
According to the budget report, agriculture makes up 44 percent of Pakistan's labor force and 21 percent of its GDP according to the budget report. In short, the agriculture sector is vital to the economy.
The Pakistani government aims to increase the productivity and income of the rural population by instituting various changes. Such changes include lowering the cost of fertilizer, eliminating a tax on pesticides and extending credit to farmers. This will increase the credit budget from 600 to 700 billion rupees (approx. 5.7 billion to approx. 6.7 billion dollars).
Part of the proposed agricultural budget includes a measure for an off-peak tariff decrease on tube wells. Tube wells are made by driving a tube into a stratum in the ground that bears water.
This decrease would bring the price down from 8.85 rupees per unit (approx. 8 cents) to 5.35 rupees per unit (approx. 5 cents). The Pakistani government will bear a cost of 27 billion rupees (approx. $259 million) to provide more affordable means of reaching water sources for the depleted agriculture sector.
Dar hopes that helping shoulder the burden of cost brought on by decreased food prices and unfavorable weather will rejuvenate a critical piece of an economy that has seen a mere 4.7 percent overall growth in the past two years.
In assisting agriculture, Pakistan could also see improvement in the textile industry. In fact, 70 percent of the raw materials used by that sector are provided by the agriculture sector.
To further support the textile industry, imports of textile machinery will continue to be exempt from customs duty. Textiles and other export-oriented sectors of the economy will have a zero-rate tax regime.
The Pakistani government has also proposed a suspension of taxes on exports in the hopes of halting the current decline.
The education budget is largely unchanged from recent years. However, the budget includes an 11 percent increase in the funding of higher education. This allocation of 79.5 billion rupees (approx. $763 million) is the largest amount ever set aside for higher education.
Elements of this budget include faculty development programs for universities, as well as the establishment of sub-campuses.
Better-trained faculty and more university campuses could lead to a more educated population that would possess the tools necessary to generate income and start businesses. These new business owners would need to hire employees, so providing aid for higher education could reduce poverty in Pakistan and create more jobs.
Research by the Pakistani government with the help of World Bank shows that the government has been successful in its effort of reducing poverty. The poverty has dropped from 64.2 percent in 2001-02 to 29.5 percent in 2013. Conditions in Pakistan are getting better, but there is still room to improve.
Foreign aid is effective in helping to reduce poverty, but national governments face the task of instituting programs that will provide people with jobs to sustain life above the poverty line.
The 2016-17 Pakistani budget seeks to increase funding for critical sectors of the economy. Funding these important programs could help the economy in its continued growth by providing education and job opportunities to the nation's young and rural populations, thus reducing poverty in Pakistan.
– Aaron Parr
Photo: Huffington Post