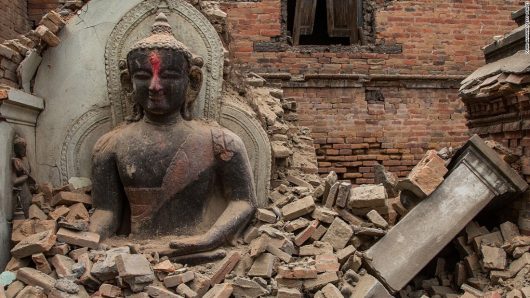 The 2015 Nepal earthquake left over 1 million children without a school. A little over a year has passed since the 7.8 magnitude earthquake that killed thousands.
However, unrepaired damage continues to plague the country. The scope of the damage and political difficulties have meant much of the country still lies in rubble.
But the nation is making progress. Newly announced plans for reconstruction have set a three-year timeline for various progress goals, with education infrastructure named a top priority.
The Nepal earthquake destroyed 17,000 classrooms of nearly 8,000 schools, and the aftershocks damaged an additional 20,000 classrooms. While the donations obtained as of April 2016 tallied approximately $200 million, this was sufficient to repair only 1,700 schools.
Due to limited funding, the initial rebuilding efforts will focus primarily on education infrastructure in the hardest hit regions of the country. Over the course of three years, the national government hopes to accomplish significant rebuilding.
The overall economic impact of the earthquake on Nepal is estimated at nearly $7 billion. The country's long history of political tension, combined with the magnitude of reparations needed, has led to an atmosphere of political urgency.
These tensions have aggravated preexisting political divides and slowed down measures to hasten reconstruction. Frustration with the situation has led to protests following the earthquake, making the need for efficient rebuilding of education infrastructure all the more urgent.
In the months following the earthquake, many students had to use temporary classrooms. These classrooms are not strong enough to withstand heavy Nepal weather (including monsoons). However, students have already used them for an entire winter season.
For those involved in the rebuilding efforts of prior learning spaces, avoiding the continued use of these classrooms is a top priority in order to provide students with a safe and stable learning environment.
The Nepal government continues to seek methods for resolving political differences and hastening reconstruction as much as possible. However, the three year-plan emphasizing education infrastructure represents major progress.
Additionally, humanitarian development organizations such as Plan International have contributed in the wake of the disaster. The organization recognized the importance of this project and hence began a classroom-rebuilding initiative.
Plan International seeks to rebuild 20 of the schools that the Nepal earthquake destroyed. They also plan to repair 1,600 damaged classrooms.
In order to further extend the positive impact of these schools, the buildings will have reinforcements that can withstand tough weather conditions. Additionally, Plan International will provide extreme weather training for students and teachers.
The students who lost their learning spaces in the Nepal earthquake will gain more than a building from this project.
They also represent increased safety for students. Schools not only provide education, but they also operate as a safe space. This rebuilding project could enact a decline in exploitation, child marriage and trafficking threats.
– Charlotte Bellomy
Photo: CNN
https://borgenproject.org/wp-content/uploads/The_Borgen_Project_Logo_small.jpg
0
0
Clint Borgen
https://borgenproject.org/wp-content/uploads/The_Borgen_Project_Logo_small.jpg
Clint Borgen
2016-06-28 03:25:11
2020-06-12 07:34:45
Three Year Plan to Rebuild Schools After Nepal Earthquake