How Education is Affecting the Poverty Rate in India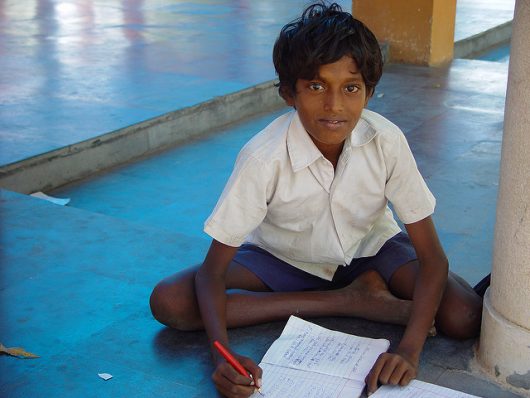 India, which now has the world's third-largest economy in terms of purchasing power parity, has been an urban-centered, industrializing nation since its independence in 1947. Over the last 25 years, India has been noted for its significant economic growth which looks to continue for the 2017 -2018 fiscal year with an expected growth rate of 7.2%. While India has maintained much economic success, many failures and weaknesses still debilitate the nation's full potential. For example, the poverty rate in India has been less severe in recent years, but there is still much room for improvement.
In 2016, 270 million Indians were surviving on $1.90 or less a day, the World Bank's definition of extreme poverty. Of the people living in these conditions, 80 percent lived in rural India, where the main source of income for the population is through casual labor. While the economy has appeared to have boomed over the last 25 years, most growth has been in urban areas where large multinational corporations, such as IBM and Microsoft, base their software development headquarters.
With this divide between urban and rural life, economic growth does not seem to remove the issues of extreme poverty in the way a neoliberal economist would suggest. A study in 2002 found that these conditions in India are partially due to educational poverty, which is defined as the deprivation of basic education and literacy. Only 6% of the income from poor households is invested in education and health, while the majority is spent on other necessities such as food and fuel.
However, Tsujita, a researcher of the Institute of Developing Economies, believes that "there may be a chance of escaping poverty through education." The government in India seems to agree with this statement as they promoted the Sarva Shiksha Abhiyan (SSA) project as a part of their flagship program. SSA was a project in India that began in 2002 to enroll all six- to 14-year-olds in primary education by 2010. The project attempted to do so by improving the facilities and infrastructure of schools while also expanding access to these facilities nationally. As a result, by 2009, 98% of children were only 1 kilometer away from educational facilities and only 2.7 million children remained out of school.
With the extreme poverty rate in India falling from 53.86% in 1983 to 21.23% in 2011, the World Bank strongly believes that education is a powerful instrument for poverty reduction. While the reductions in the extreme poverty rate in India over the past 20 years in India are not due solely to educational improvements, the investment in enhancing basic education has had a significant impact on the poverty rate in India.
Although India's literacy and education rates remain poor on a global scale, the recent achievements of the SSA are far greater than those previously undertaken, as the program was implemented throughout all districts of India. However, there is still more work to be done. A recent survey shows that half of the government schools in India have no teaching activity and low student progression rates. For the nation to truly eradicate extreme poverty, quality education must be promoted.
These same strides should be made internationally to ensure a better future. Today, 263 million children still do not attend school or lack access to such facilities due to conflicts or national instabilities. Former U.N. secretary-general, Ban Ki-Moon, professed that "with partnership, leadership and wise investments in education, we can transform individual lives, national economies and our world".
The American people have the opportunity and ability to support such a transformation. The Reinforcing Education Accountability in Development (READ) Act aims to provide basic education and access to the remaining out-of-school children around the world. This piece of legislation has recently passed through the House of Representatives, but it must still be approved by the Senate. As the dramatic changes in India over a 10-year period were due partially to improvements in basic education, a bill such as the READ Act has the potential to improve living conditions for children globally.
– Tess Hinteregger
Photo: Flickr
https://borgenproject.org/wp-content/uploads/logo.jpg
0
0
Borgen Project
https://borgenproject.org/wp-content/uploads/logo.jpg
Borgen Project
2017-07-23 07:30:29
2020-06-11 08:35:07
How Education is Affecting the Poverty Rate in India