Poverty in Mexico Violates the Country's Own Constitution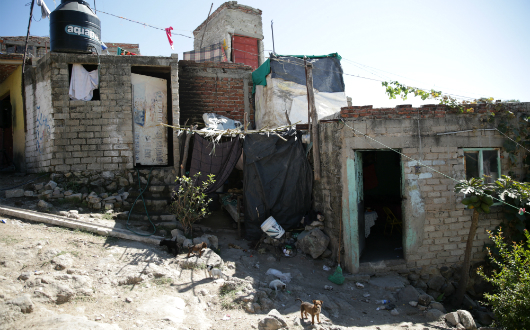 Mexico's rising poverty levels, which have been a growing crisis for years now, just reached a new benchmark—they violate Mexico's constitution.
According to Mexico's constitution, the minimum salary must guarantee citizens a "decent standard of living." While individual Mexican employees chalked up 2,327 work-hours on average in 2014, workers only earned an average annual salary of $12,850.
In comparison, American workers logged around 1,800 hours in 2014 and earned an average annual salary of $57,139 in the same time frame.
"In Mexico poverty affects those who work. It's not just the unemployed that fall into poverty, as happens in developed countries," Mexican nongovernment organization Acción Cuidadana Frente a la Pobreza (Citizen Action Against Poverty) said in a statement. "In our country, income from labor is insufficient to be above the poverty line."
Poverty in Mexico is increasing at such a rapid rate due to the increasing income disparity between the country's upper and lower classes. According to the Organization for Economic Cooperation and Development (OECD), Mexico's wealthiest 10% earn 30.5 times more than the country's poorest 10%.
Those outside of Mexico's wealthiest are finding it incredibly difficult to live off of the country's present minimum wage regulations, which vary geographically. The highest in the country is 70.1 pesos a day, or around $4.30.
"These numbers are the result of a perfect storm of events," Inter-American Development Bank economist David Kaplan told The Wall Street Journal. "This tendency regarding wages–adjusted for inflation and adjusted for the basic food basket–is part of a long-term trend that began with the crisis."
Conveal, a Mexican social policy tracking organization, reported that the overall poverty rate in Mexico rose to 46.2% in 2014, or roughly 55 million people. This number is up from 45.5% in 2012.
Despite efforts to combat rising poverty in Mexico, the lack of a substantial living wage is making progress almost impossible. Still, Mexico's Social Development Ministry is acknowledging the crisis.
"Multidimensional poverty is fought with greater economic growth, job creation, democratization of productivity and better distribution of income," the ministry said.
– Alexander Jones
https://borgenproject.org/wp-content/uploads/logo.jpg
0
0
Borgen Project
https://borgenproject.org/wp-content/uploads/logo.jpg
Borgen Project
2015-08-07 08:27:51
2020-07-08 11:05:17
Poverty in Mexico Violates the Country's Own Constitution