Poverty in Mexico City Impacts Population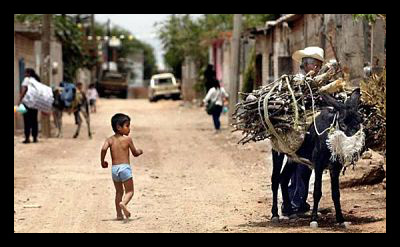 Almost half of the population in Mexico lives in poverty. Based on the current population of 117 million, over 55 million people live in poverty. Forty-one million people live on less than $188 per month and 11.5 million live on less than $83 per month. It is estimated that more than half of the entire population is living on less than $2 per day and a quarter of the population is living on less than $1 per day. From 2012-2013, the GDP in Mexico dropped from four percent to one percent.
In Mexico, 25.3 million people are without access to proper health care, and 27.4 million people do not have proper access to food and are described as being food insecure. Food insecure is a term that is used in Mexico to describe those who face extreme hunger and are unable to meet their own nutritional needs during the year. Despite a decrease in extreme poverty since 2010, poverty has continued to increase.
Mexico City is the capital of Mexico and has a population of two million people. It is a city that struggles with disease and poverty. The wealth in Mexico City is concentrated. Although some of the poor live in the cities, many reside in the rural areas. The rural areas house the majority of the impoverished; however, there is little recorded data to demonstrate the cause, according to the government. Although the government is aware of the poverty that exist in these areas, the states of Mexico that border the United States do not qualify for the Oportunidades program to alleviate poverty and health issues.
Health issues in Mexico City are caused by poor air quality as a result of air pollution. Air pollution causes respiratory problems for the residents. Mexico has declining incidence rates of Tuberculosis. However, in Mexico City, the cases of Tuberculosis are five times as much as the United States. For the people of Mexico City, Hepatitis A is still considered endemic.
The first Millennium Goal initiatives are applicable to the status quo of Mexico City. With little aid from the government, Mexico City will have to look to outside sources for relief.
– Erika Wright
Sources: CDC, U.S. Mission to Mexico 1, U.S. Mission to Mexico 2, U.S. Department of State, The World Bank
Photo: Hispanically Speaking News
https://borgenproject.org/wp-content/uploads/The_Borgen_Project_Logo_small.jpg
0
0
Borgen Project
https://borgenproject.org/wp-content/uploads/The_Borgen_Project_Logo_small.jpg
Borgen Project
2015-04-14 08:00:51
2017-03-20 14:23:31
Poverty in Mexico City Impacts Population