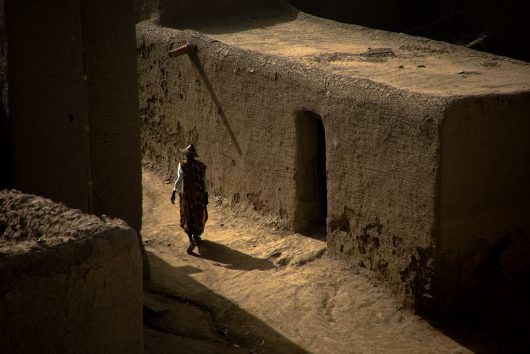 As the 12th poorest country in Africa, Mali has remained poverty-stricken for many years. Malnutrition issues, lack of education and conflict are the main causes of poverty in Mali.
The average wage in Mali is $1.25 per day, and more than half of the population currently lives below the international poverty line. This contributes to Mali being one of the least developed countries in the world. The average life expectancy of adults in Mali is 55, due to malnutrition and the lack of access to clean water.
Mali is mostly self-sufficient in the food market. Many people work on farms in order to grow crops to provide for their families and communities. Mali faces many issues involving its climate and landscape. Two-thirds of Mali is desert, meaning that immediately, droughts become a serious issue. With poor soils, millions find it difficult to grow the crops they need and due to low wages, they are unable to buy what their family demands. As a result, malnutrition becomes a leading issue and is the main factor of poverty in Mali.
Poor education facilities across the country have led to poverty across Mali and as poverty heightens, the level of education deteriorates further. School enrollment is currently at 67% and across the country, the adult literacy rate is 38.7%. This is one of the lowest literacy rates in the world, as the global average stands at 86%. This figure shows that the level of education needs to be higher, which means that facilities need to be improved and the level of teaching must be higher.
The current conflict is adding to the problems revolving around poverty in Mali as over half a million families are affected. As the conflict continues, Malians are fleeing to neighboring countries in seek of asylum. Families continue to live in poverty as food shortages continue to be an issue. As people are moving away from Mali, they are not earning enough money to provide their families with what they need.
The United Nations World Food Programme is aiding Mali by providing nutritional support to those who still live there. In 2013, around 125 thousand people were provided with food support in the north of the country. Others in the south are also aided while they work on community-building projects. The program is helping to provide citizens with money to buy fresh vegetables and meat, which not only helps to provide for families but also to boost the local economy.
– Georgia Boyle
Photo: Flickr
https://borgenproject.org/wp-content/uploads/logo.jpg
0
0
Borgen Project
https://borgenproject.org/wp-content/uploads/logo.jpg
Borgen Project
2017-01-30 01:30:35
2020-05-28 09:34:05
Poverty in Mali