Life Size Lego: Turning Rubble into Homes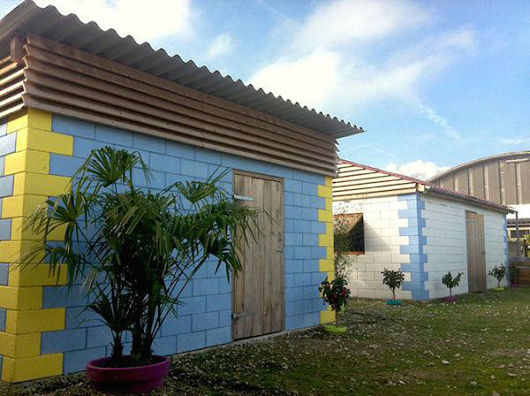 One of the largest and most difficult tasks that aid workers face in disaster relief is finding those affected shelters. When disaster strikes, it either forces people out of their homes or reduces residences to piles of rubble. As for the governments of the affected regions, there exists the enormously expensive logistical challenge of clean up. Structural debris and rubble are the largest solid polluter by volume. One Dutch company may have found a single solution to both of these problems.
The Mobile Factory is, as the name suggests, a compact, and portable concrete production facility. It fits into two standard size shipping containers, and can be sent anywhere in the world with relative ease. It is solar powered as well, and thus can be operated in areas with limited or damaged power grids.
Rubble is fed into the factory and it emerges as liquid concrete. This is only the first step. The concrete is then taken and molded into standardized bricks, called Q-Brixx, that resemble large Lego bricks.
Mobile Factory has pledged to instruct users in how to use the life size lego bricks to build, modestly sized, earthquake-proof shelters. The device allows communities to safely and affordably rebuild, while also removing environmentally and physically hazardous debris.
Mobile Factory is currently being tested on a small scale in Haiti. The 2010 earthquake left 1.3 million Haitians without a home and many of its towns decimated. The Mobile Factory is testing its product where it might be needed most.
The test village is being conducted in a town of 30 families. In addition to receiving Mobile Factory homes, the families are also being instructed in the factory's operation and how to build the homes. Mobile Factory hopes that this instructional program will empower communities to teach each other how to rebuild.
– Joe Kitaj
Sources: IndieGoGo, The Chive, The Mobile Factory
Photo: The Chive
https://borgenproject.org/wp-content/uploads/logo.jpg
0
0
Borgen Project
https://borgenproject.org/wp-content/uploads/logo.jpg
Borgen Project
2015-09-07 01:30:38
2020-06-30 18:48:14
Life Size Lego: Turning Rubble into Homes