Khaled Hosseini Foundation: 2015 Update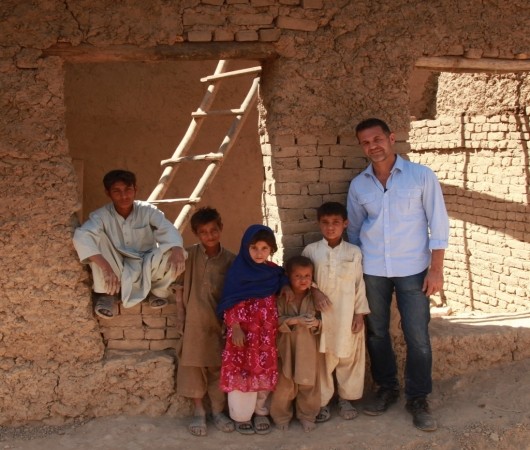 Khaled Hosseini has worked hard to give back to his native country of Afghanistan over the years. His novels show the ravages of poverty, gender discrimination, militant oppression and children being orphaned in Afghanistan. Unfortunately, what he describes in his novels is not limited to fiction.
The United Nations High Commissioner for Refugees (UNHCR) reports that Afghans are displaced due to insurgency, and that the country's stability is still threatened in 2015. Although the violence continues, many of the previously displaced citizens are returning to Afghanistan, primarily in urban regions. UNHCR also reports that "currently, there is no national asylum and refugee legislation in Afghanistan, so UNHCR is conducting refugee status determination (RSD)."
The Khaled Hosseini Foundation has partnered with UNHCR to help the Afghan people, especially refugees, move out of poverty by providing educational and economic opportunities, building shelters and supplying healthcare for women and children.
Those are broad categories and great initiatives but they are not unreachable: people's lives are being positively affected through the financial support that the foundation has given, which has gone towards the following programs:
Building Shelters — Much of the foundation's focus is on providing shelters for refugees to protect Afghans from the country's harsh summers and bitterly cold winters.
Funding to Trust in Education — The grant in 2008 and 2009 gave teachers financial support and provided for the construction of classrooms to help teach 849 children, 602 of whom were girls. In 2014-2015, funding was used to run before- and after-school programs and 10 Aschiana scholarships (sums given to families to offset what children would have made on the street to keep those children in school) were awarded.
Emergency USA — In 2011, a mobile ultrasound machine was bought for a maternity center in the city of Anabah. In 2013-2014, another center was able to purchase a CPAP machine for its neonatal unit, and in 2015 further support was given to an Emergency USA center's maternity and gynecology unit.
Afghan Women's Writing Program — In 2014, the foundation gave funds to help expand the program online, to give weekly writing prompts with mentor feedback and to have more published pieces in the Dari dialect for the women in the program.
There are many more wonderful programs that the Khaled Hosseini Foundation is supporting through grants and funding, all for the purpose of helping the people of Afghanistan, but most of the programs have the same foci as the ones mentioned above: providing shelter and helping women and children become educated and receive proper healthcare.
The foundation also offers many ways for individuals to become involved and help raise funds and awareness for the people of Afghanistan.
Donate — The foundation is a non-profit that works through the gifts of generous people.
Purchase Fair Trade Gifts — The shop on the website has many wonderful products that include bracelets, purses, bookmarks and a Golden Star Ornament. The crafts are created by women in refugee camps and the money from the sales goes to provide food, medical care and education for the families there.
Book Club Program — The foundation has created videos and supplementary materials to correspond with Hosseini's novels. Your book club could not only read the novel and learn more about modern Afghanistan, but could also have a funding drive to help provide a shelter for an Afghan family.
Student Outreach for Shelters (SOS) — This is an offshoot of the foundation and is geared toward students. Free curriculae based off of Hosseini's books are available for download. Students are then given the opportunity to fundraise to help build shelters in Afghanistan.
The Khaled Hosseini Foundation is creating an impact among the Afghan people through direct support of vital needs in the communities. Hosseini is also using his influence as an author to open the eyes of his readers to the needs of the Afghan impoverished.
If you would like to learn more about his foundation, click here; to incorporate his books into your lesson plans, visit SOS.
– Megan Ivy
Sources: Khaled Hosseini Foundation, Student Outreach for Shelters, UN Refugee Agency 1, UN Refugee Agency 2
Photo: Yahoo
https://borgenproject.org/wp-content/uploads/logo.jpg
0
0
Borgen Project
https://borgenproject.org/wp-content/uploads/logo.jpg
Borgen Project
2015-07-02 09:52:47
2020-07-14 14:17:28
Khaled Hosseini Foundation: 2015 Update