3 Facts About Indigenous Ecuadorians, Poverty and Gender Violence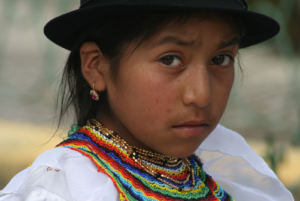 Ecuador is a small South American country on the east coast of the continent. It gets its name from its place on the equator that splits the northern and southern hemispheres. While there is a population of about 17 million people, more than a million of those people are Indigenous Ecuadorians, according to IWGIA. Historically, the Indigenous people, particularly Indigenous women, have endured discrimination, poverty and gender-based violence. Here are three facts about Indigenous Ecuadorians, poverty and gender violence.
3 Facts About Indigenous Ecuadorians
"Indigenous Ecuadorians" is an umbrella term. About 14  groups make up Indigenous Ecuadorians. They are: "Tsáchila, Chachi, Epera, Awa, Quichua, Shuar, Achuar, Shiwiar, Cofán, Siona, Secoya, Zápara, Andoa y Waorani, and Afro-Ecuadorians." According to the group Minority Rights, there are disparities in data on people self-identifying as Indigenous. While officially, in 2010, only 6.8% of Ecuador's population identified as Indigenous, estimates suggest that up to 30% of the population could be Indigenous.
Poverty is widespread in Indigenous communities. In 2012, the United Nations Children's Fund (UNICEF) estimated that 60% of Indigenous Ecuadorians live in poverty. The established poverty level is living on $1.90 or less a day. Additionally, half of this 60% lived in extreme poverty, surviving off of $1.16 a day. In fact, Indigenous Ecuadorians are twice as likely to live in poverty as the rest of the country.
Gender violence is more common against minority women. A 2019 study by Agnes Edeby and Miguel San Sebastián showed that 64% of Indigenous Ecuadorian women surveyed faced some form of violence. Many people of color living in Ecuador also experienced violence, according to the study. The study noted a larger risk difference between Indigenous and non-Indigenous women in Ecuador. Gender-based violence occurs partially due to economic dependence. According to the World Bank, economic opportunities for women in Indigenous communities are slim, leaving many reliant on men, whether familial or domestic partners. On top of that, a lack of education, health care and reproductive health care leave Indigenous Ecuadorians more vulnerable to gender-based violence.
Programs to Help Indigenous Women in Ecuador
The World Bank founded the Territorial Economic Empowerment for the Indigenous, Afro-Ecuadorians and Montubian Peoples and Nationalities (TEEIPAM) project, which received board approval in 2020. The project aims to help reduce gender-based violence and provide economic stability among these minority groups. While the TEEIPAM project is still in the early stages of its rollout, project financers have invested $40 million to achieve the project goals by 2026.
TEEIPAM has identified four elements to combat gender-based violence among Indigenous Ecuadorians:
Working to "train and sensitize the local authorities" to gender-based violence and raise the participation of Indigenous peoples in "coordination spaces."
Creating a community-based approach focused on communication and local activities to address gender-based violence.
Educating households on gender equality and healthy relationships.
Strengthening Indigenous community repercussions for gender-based violence and educating Indigenous leaders to advocate against gender-based violence.
Casa de Mujeres Amazonicas
An Ecuadorian center recently opened to help Indigenous Ecuadorians fleeing gender violence. An alliance of minority women founded the Casa de Mujeres Amazonicas (Home of Amazonian Women) in March 2022. According to its founders, the center is the first in Ecuador to acknowledge the common thread between violence against Indigenous Ecuadorians and Ecuadorian women as violence against both is an ongoing issue. The center provides accommodation, legal help, emotional support and more.
Overall, Ecuador can do more to help Ecuador's Indigenous people, particularly women, who suffer from violence and discrimination, and therefore, are at higher risk of poverty. Despite the grim statistics, programs are working diligently to get help to those who need it the most, both domestically and abroad. The changes implemented are both structural and abstract but overall will contribute to a better quality of life for Indigenous Ecuadorians.
– Emma Rushworth
Photo: Wikipedia Commons
https://borgenproject.org/wp-content/uploads/logo.jpg
0
0
Jennifer Philipp
https://borgenproject.org/wp-content/uploads/logo.jpg
Jennifer Philipp
2022-09-07 01:30:57
2022-09-06 06:54:56
3 Facts About Indigenous Ecuadorians, Poverty and Gender Violence