Indictment for the Sake of Democracy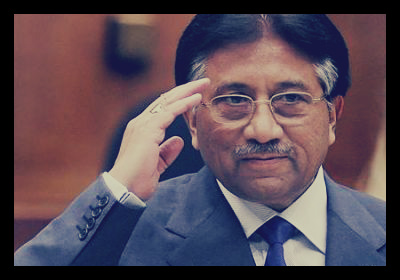 He pleaded not guilty to all of it. To allegations of suspending the constitution and putting forth a state of emergency, making unlawful constitutional alterations and detaining superior court judges, General Pervez Musharraf claimed innocence.
In 1999 Musharraf overthrew Pakistan's constitution and took the presidency in order to, from his perspective, "restore the country's honor" at a time of near economic default. Yet some consider this same power grab to have been more along the lines of a military coup. Musharraf's formal indictment for high treason on March 31, however, relates primarily to his actions after taking office.
In 2007, shortly after his reelection for the Pakistani presidency, Musharraf got scared. The country's Supreme Court, whose opposition toward Musharraf had been steadily growing, was scheduled to rule on the election's legality. Insinuating that any justices who failed to sign on to the "provisional constitutional order" would be dismissed from their positions, Musharraf enacted emergency rule in an effort to maintain his withering hold on power. By 2008 the downtrodden president resigned in the face of possible impeachment.
The court cases Musharraf faces at present may have come sooner had he not fled the county following his resignation. Intending to restart his political career, he returned to Pakistan in 2013 only to be met with a barrage of accusations against him. Since his arrival, the former president has prolonged and delayed his hearings with impeccable reliability. Citing health issues and security concerns, the March 31 indictment came on Musharraf's second attendance at the court out of a total 37 scheduled hearings. And his fateful second trip to court only occurred due to the humiliating risk of arrest that came along with the Pakistani police officers' visit to his hospital bed at the military hospital in Rawalpindi, where he has repeatedly shown face on account of chest pain prior to a hearing. He has so far complained of a rickety knee, a bad spine, hypertension and a clogged artery, among other creative ailments. In addition to apparently failing health, on two occasions Musharraf somehow managed to discover explosives laying oddly conspicuously in his farm yard outside of Islamabad. Whether or not there is truth to these claims, Musharraf's future is in a seemingly precarious position.
If he is found to be guilty of the five charges placed against him, Musharraf could be sentenced either to life in prison or be given the death sentence for high treason.
According to some scholars, the trial itself is a sign of democratic progress in Pakistan. Musharraf's indictment signified the first time any army chief or military dictator faced charges of going against the constitution. As such, the Pakistani court is taking a vital stand in support of constitutional sanctity and democratic values in a manner previously unseen.
– Jaclyn Stutz
Sources: New York Times, Al Jazeera, DAWN, New York Times
Photo: APMLPAK
https://borgenproject.org/wp-content/uploads/logo.jpg
0
0
Borgen Project
https://borgenproject.org/wp-content/uploads/logo.jpg
Borgen Project
2014-04-09 10:48:09
2016-02-16 12:09:26
Indictment for the Sake of Democracy