100K Strong in the Americas Program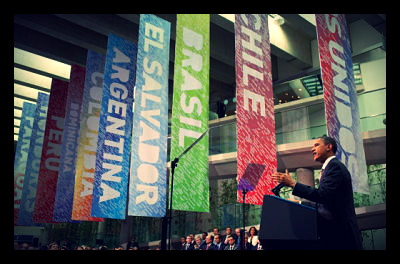 One of President Obama's most important initiatives in the Latin American region has been the 100K Strong in the Americas Program. This program was launched in March 2011, and seeks to increase international study in the Western Hemisphere. The idea is to foster a common understanding between the peoples of the Americas in the hopes of bettering inter-American relations.
The Department of State has partnered with the Association of International Educators (NAFSA), and Partners of the Americas, a development agency, in order to realize this vision. The program works by establishing a network of partnerships with foreign governments, universities, and colleges, and the private sector to increase foreign student participation in the U.S. and U.S. student participation in the Americas. The goal of the program is to reach 100,000 Latin American students studying in the U.S. and 100,000 U.S. students studying in Latin America by 2021.
In order to finance this venture, the State Department has set up the 100K Strong in the Americas Innovation Fund, whereby companies can donate money to Latin American and U.S. universities in order to improve cross-cultural student exchange. By current figures, 40,000 U.S. students study in Latin America and the Caribbean while 66,000 Latin American students study in the U.S. each year. Clearly there is work still to be done.
One large obstacle is the fact that many Latin Americans from poorer backgrounds do not have the necessary grasp on the English language that is required to succeed at a U.S. college or university. On the other hand, many U.S. students do not understand or recognize the value of studying abroad at Latin American colleges or universities.
It is hoped that the public-private sector partnership through the Innovation Fund will be able to increase the numbers of students studying in the U.S. and in Latin America.
Through the 100K Strong in the Americas program the U.S. hopes to construct a more understanding relationship between Latin Americans and the U.S. Enhancing cross-cultural contact is necessary for a better working relationship within the hemisphere in the future. By promoting this contact between the future leaders of the Americas, the U.S. is ensuring more successful diplomatic efforts down the line.
– Jeff Meyer
Sources: 100K Strong, U.S. Department of State, U.S. Department of State
Photo: US Embassy
https://borgenproject.org/wp-content/uploads/logo.jpg
0
0
Borgen Project
https://borgenproject.org/wp-content/uploads/logo.jpg
Borgen Project
2014-04-09 10:51:25
2017-03-20 14:06:48
100K Strong in the Americas Program