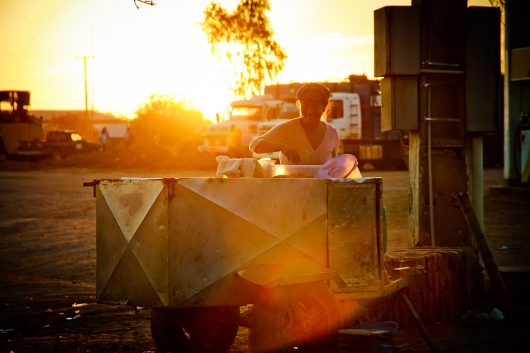 Paraguay is a South American country, located between Argentina, Bolivia, and Brazil. Similar to its neighbors, Paraguay has experienced significant economic growth over the past decade, mostly due to its agricultural industry. Despite this, hunger in Paraguay continues to be an ongoing issue, due to a lack of equal wealth distribution.
Agriculture for Exportation
Paraguay produces enough food for 60 million people, yet 10 percent of its population of seven million is plagued by chronic hunger or malnourishment. This staggering statistic is the result of how the land is proportioned. Of the total agricultural land in Paraguay, 94 percent is used for exports, while only six percent is devoted to domestic food production.
On paper, this would seem an easy fix to hunger in Paraguay: re-appropriate the land to increase the production of food for the citizens. However, it is estimated that between 60 and 80 percent of the land in Paraguay is owned by the top two to three percent, who have a vested interest in maximizing profits, and thus use as much of that agricultural land for exports as possible.
Economic Development Needs to Help Impoverished
This agricultural development model has also resulted in Paraguay having one of the highest rates of deforestation in the world. In addition, this aggressive use of agriculture for high export rates results in an excessive use of pesticides, which are not only detrimental to the environment but negatively influence human health.
Despite the rise in economic productivity, the "new money" is reaching very few hands, and the families in rural areas are paying the price. Eighteen percent of the rural population of Paraguay is living in a state of extreme poverty. In indigenous communities, the number is much larger, at 57 percent. Even more disheartening is that 17 percent of children under five are malnourished, which leads to stunted growth, among other health issues.
If hunger in Paraguay is going to be properly addressed, the Paraguayan government has to step in to address the corruption as well as the income and land inequality.
– Dustin Jayroe
Photo: Flickr
https://borgenproject.org/wp-content/uploads/The_Borgen_Project_Logo_small.jpg
0
0
Borgen Project
https://borgenproject.org/wp-content/uploads/The_Borgen_Project_Logo_small.jpg
Borgen Project
2017-03-26 01:30:07
2020-04-22 19:23:40
The Effects of Inequality on Hunger in Paraguay