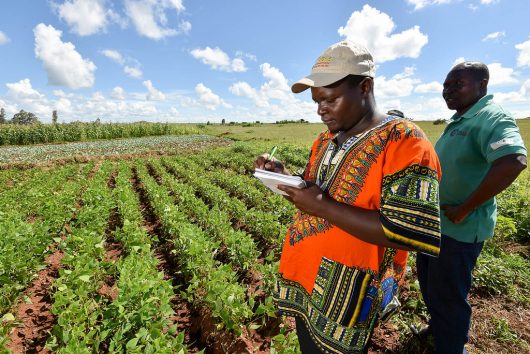 The plight of people in Mozambique is always clouded with stories of famine and malnutrition. This has been the case for decades. The current food crisis in Mozambique goes overlooked at times because it happens as an annual reoccurrence due to heavy drought. According the United Nations Office for the Coordination of Humanitarian Affairs, (OCHA), as of early 2016, 1.4 million people were food-insecure. That number is expected to increase to 2.3 million people by the end of 2017. But there is hope for hunger in Mozambique.
There are a few initiatives that are trying to address the hunger in Mozambique. The disconnect between reaching people in rural areas being bridged by mobile brigades. Health and Nutrition Mobile Brigades are out in the rural areas getting food into the hands of the people that need it most. These mobile brigades are trying to solve hunger issues by actually reaching people.
This isn't a solution for everyone but it's benefiting some. Those who are benefiting from this initiative no longer have to worry about finding their way to towns that provide food. In 2016, UNICEF saw 27,500 cases of Severe Acute Malnutrition in children under five. In 2017, it is estimated that there will be fewer cases of moderate and severe malnutrition due to the mobile units that are reaching people in remote areas. Hunger in Mozambique is rising, but with intelligent planning and the ability to get food into the hands of the people, organizations are trying desperately to lower those numbers.
According to the OCHA, food security clusters are reaching people by the hundreds of thousands, although there's still work that needs to be done as everyone isn't being reached in time. The food security clusters are reaching people through vouchers, food distribution and vegetable seeds. These meager means of feeding people prove to be life or death strategies in a region that's prone to drought.
With the majority of subsistence farms being roughly two acres in size, there's been a push to share important information on crops, yields and the overall health of the crops. There are apps that are getting into the agricultural business and may prove to be the future of slowing down food deficits.  An app called WeFarm is a way for farmers to share information through cell phone. This is a long way off in some remote parts of sub-Saharan Africa, but the thought of millions of people sharing information via cell phone that my slow down or eradicate crop devastation is promising.
Being involved in the decisions that affect the people of Mozambique is imperative. Their involvement in their own future will sustain the progress for generations to come. There may be no stopping of the drought anytime soon, but with certain safeguards in place, feeding the people of Mozambique can be bit easier. The aforementioned initiatives may indeed prove to be just what Mozambique and other countries need.
– T.W. Prescott
Photo: Flickr
https://borgenproject.org/wp-content/uploads/logo.jpg
0
0
Borgen Project
https://borgenproject.org/wp-content/uploads/logo.jpg
Borgen Project
2017-10-30 07:30:35
2019-12-31 12:45:15
Hunger in Mozambique