Hunger in Botswana: A Problem of Climate Change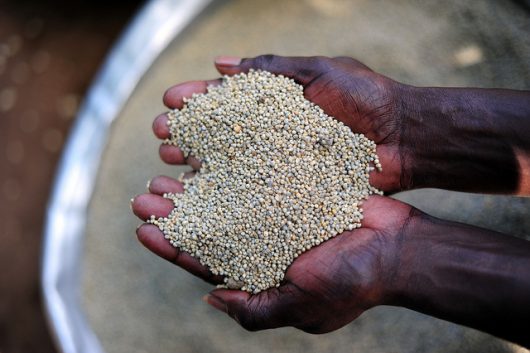 Botswana was rated as Serious on the Global Hunger Index, and hunger in Botswana is a problem that is highly correlated with climate. Botswana has a semi-arid climate that is not opportune to grow food. In the summer, temperatures can climb as high as 40 degrees Celsius (104 degrees Fahrenheit).
For this reason, the nation imports 90 percent of its food. Global food prices in 2011 were particularly high, and this caused Botswana's food security to suffer. Every few decades, Botswana experiences a drought that can last five years or more. Those in poverty cannot afford imported food, and therefore are most affected by droughts within the country.
From 2008-2012, 31 percent of children in Botswana suffered moderate to severe stunting due to malnutrition, according to UNICEF. In 2016, almost a quarter of the population was malnourished and 23 percent of children under five years old were affected by stunting. In 2012, the amount of stunting in children under five was doubled in children from the most impoverished families compared to children from wealthier families. The government has invested in infrastructure to help increase food production.
Climate change directly affects crops and water for irrigation. Ninety-five percent of crops in sub-Saharan Africa depend on rainwater irrigation. There is an average of 460 mm of rain in Botswana each year, depending on the region. In comparison, the average amount of rainfall in the United States each year is 767 mm.
One solution to hunger in Botswana is to focus on creating jobs in the agricultural sector, rather than creating an abundance of food. In 2010, 26.4 percent of employment in Botswana was in the agricultural sector. Only wealthy farmers can afford the fossil fuels necessary for large scale production. Since expensive farming methods increase food prices, Botswana should focus on farming methods that create jobs for more people.
To alleviate hunger in Botswana, the large role that agriculture plays in the economy should not be ignored.
– Jennifer Taggart
Photo: Flickr
https://borgenproject.org/wp-content/uploads/logo.jpg
0
0
Borgen Project
https://borgenproject.org/wp-content/uploads/logo.jpg
Borgen Project
2017-03-17 01:30:37
2020-05-13 13:21:46
Hunger in Botswana: A Problem of Climate Change