Human Trafficking in Zimbabwe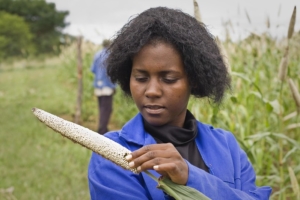 Human trafficking in Zimbabwe is prevalent as thousands of women fall victim to human trafficking under the guise of job opportunities while children are thrust into child labor. However, Zimbabwe is taking legislative action to combat this.
Human Trafficking in Zimbabwe Amid Economic Instability
Human trafficking in Zimbabwe takes several forms, for example, fraudulent job offers. Traffickers lure victims through international job offers promising as much as $800 per month for jobs as housemaids in countries like Oman and Kuwait. Once there, the women discover that they have fallen victim to a human trafficking syndicate.
Zimbabwe's government-owned news channel broadcasts stories of women falling victim to these lures in an attempt to raise awareness. The poverty level in Zimbabwe makes desperate people more susceptible to promises of a better future outside of poverty. In 2019, 42% of Zimbabweans lived in extreme poverty below the international poverty line (PPP $1.90/person/day). Due to the impacts of the COVID-19 pandemic, families facing financial difficulties are even more susceptible to human trafficking lures.
Traffickers Prey on the Poor
In a FairPlanet article by Cyril Zenda published in 2022, Barbra, a Zimbabwean single mother of three children expresses her willingness to risk traveling to the Middle East for a potential job in order to escape her circumstances of poverty. According to Zenda, "The monthly pay of $200-$300 that most of the victims end up getting upon landing in foreign countries is more than what an average peasant earns after a hard toil on the land for an entire year."
To prevent more citizens from falling victim to human trafficking in Zimbabwe, the government ran education initiatives. In some cases, authorities had to physically block potential victims from boarding airplanes in the country's airports. In March 2022, Home Affairs permanent secretary, Aaron Nhepera, highlighted the ongoing issue, telling reporters, "We have had also very unfortunate situations where we have repatriated people who have been trafficked to other countries."
Nhepera, who is also the chair of an inter-ministerial committee on human trafficking, said, at the time, authorities worked on saving 18 Zimbabwean females from Oman where they lived and worked in deplorable, exploitative conditions.
In an interview with FairPlanet, Lloyd Kuveya, assistant director at the Centre for Human Rights at the University of Pretoria in South Africa, says to decrease citizens' susceptibility to human trafficking, a country must "foster conditions that would allow their people to stay and thrive at home. " This includes establishing "conducive conditions for employment creation and for people to be able to sustain their livelihoods so that they do not take desperate measures for their survival."
US Department of State Ranking
According to the U.S. Department of State's 2022 Trafficking in Persons Report on Zimbabwe, for the second year in a row, the nation ranks on the Tier 2 Watch List. This ranking means that "Zimbabwe does not fully meet the minimum standards for the elimination of trafficking but is making significant efforts to do so."
The report outlines the reasons for this ranking: The Zimbabwean government "did not demonstrate overall increasing efforts compared with the previous reporting period." Furthermore, Zimbabwean authorities "did not amend its anti-trafficking law to criminalize all forms of trafficking" and did not "identify any trafficking victims or provide care for victims in its designated shelter" nor did it convict any human traffickers.
However, Zimbabwean authorities did take some steps, "investigating and prosecuting human trafficking cases and conducting training for law enforcement, immigration officials and other key anti-trafficking officials."
Cabinet Vote for Anti-Trafficking Law
On April 28, 2022, the Zimbabwean Cabinet approved updates to the nation's Trafficking in Persons Act in order to address increasing cases of human trafficking in Zimbabwe. The government will introduce the Trafficking in Persons Amendment Bill to strengthen the nation's existing laws on the matter and detail assistance to victims of human trafficking as well as repatriation steps.
The Trafficking in Persons Amendment Bill will align with the guidelines of the Palermo Protocol, a United Nations protocol to address human trafficking, especially among children and women, "supplementing the U.N. Convention against Transnational Organized Crime and its Protocols." The definition of human trafficking will be expanded to include human trafficking in a variety of forms, such as forced labor and forced marriage.
With the Trafficking in Persons Amendment Bill, the Zimbabwean government takes significant steps to eradicate cases of human trafficking in Zimbabwe, ensuring the protection of human rights for all.
– Jacara Watkins
Photo: Flickr
https://borgenproject.org/wp-content/uploads/logo.jpg
0
0
Jennifer Philipp
https://borgenproject.org/wp-content/uploads/logo.jpg
Jennifer Philipp
2022-08-26 07:30:14
2022-08-24 12:54:08
Human Trafficking in Zimbabwe