How People Become Refugees in Europe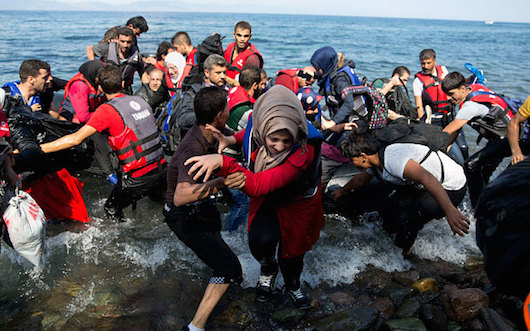 Last year, there was a record high of 220,000 refugees in Europe seeking asylum. According to The Guardian, more than 900,000 people have sought refuge by sea to Greece or Italy due to civil unrest.
Syrians made up the largest part of this group, having fled their home country because of the 4-and-a-half year civil war that has taken the lives of over 200,000 Syrians, according to the New York Times.
The reasons why people become refugees are not hard to conjure – war, religious or social conflict, violence – but how these refugees secure their safety can be a long, stressful process.
The first step in seeking refuge is often finding a place that allows one to be close to their families, but far enough away from any threat of violence. According to The Guardian, it is almost impossible for Syrians to be granted legal access into other Arab countries.
This leaves places like Jordan, Turkey and Lebanon as places to escape, though refugee families in the Middle East no longer receive financial assistance from the UN due to funding shortcomings. These countries do not offer secure legal statuses to refugees either, which can prevent them from having the right to work.
These stipulations explain why so many refugees are traveling to Europe for refugee or asylum status by boat. According to the Guardian, more and more Syrians who become refugees in Europe are using the Balkan route – traveling by sea from Turkey to Greece and then walking through Macedonia and Serbia to reach European Union (EU) territories.
https://www.youtube.com/watch?v=ZHQ88y-A6iw
Open Society Foundations, an American organization whose mission statement is to "build vibrant and tolerant democracies whose governments are accountable to their citizens" works with the Common European Asylum System (CEAS) that works to guarantee that international law protects the rights of refugees in its member states.
According to Open Society Foundations, if an asylum seeker or refugee is traveling through several EU countries, the CEAS allows one EU country to send that person to the first EU country they have reached, as long as that country maintains the rights of asylum seekers.
Unfortunately, only a small portion of asylum seekers are monitored this way, and the systems in Greece, Hungary and Italy have tried to block transfers of citizens with court orders. Some people who become refugees end up back in the south where their journey began.
Groups like Open Society Foundations are crucial in helping refugees and asylum seekers partake in legal movement for work and family without violating any human rights.
Because of the large influx of refugees in Europe, Open Society Foundations find it vital to develop effective policy proposals that will lead to a progressive and successful European asylum system.
Revisions under the European Agenda on Migration state that immediate action will be taken by the EU in order to prevent further deaths and improve conditions for those seeking refuge in Europe. This includes increased funding to Frontex and Europol, two organizations that focus on border control and defense of the EU, respectively.
– Kelsey Lay
Sources: European Commission, Open Society Foundations, The Guardian 1, The Guardian 2, The New York Times
Photo: The Telegraph
https://borgenproject.org/wp-content/uploads/logo.jpg
0
0
Borgen Project
https://borgenproject.org/wp-content/uploads/logo.jpg
Borgen Project
2016-02-04 01:30:18
2020-06-22 08:43:12
How People Become Refugees in Europe