How to Help People in Uzbekistan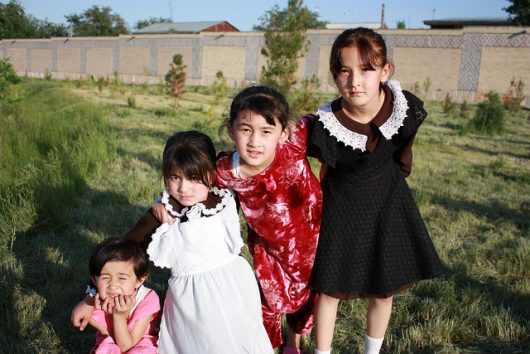 The Republic of Uzbekistan was formed in 1991 after declaring independence from the Soviet Union. However, this independence came at a cost. After losing subsidies afforded by the Soviet government, this nation experienced a serious economic decline. Today, not only do 12.8 percent of Uzbekistan's citizens live beneath the national poverty line, it has a steady unemployment rate of 8.9 percent. With an economy largely based around agriculture, Uzbekistan's GDP has suffered during the last few decades due to the fragile ecosystem caused by climate change, rapid population growth and environmentally-damaging economic pursuits.
These financial hardships are not helped by the Uzbek government, which has a track record of corruption, non-transparency and numerous human rights violations. Though there have been improvements in terms of income distribution and income rates, the future of this nation is ambiguous, given the likelihood that their high commodity prices will decrease with the current environmental and market disruptions. This places a great deal of pressure to establish a market-based economy, which calls for both higher education rates and outside investors.
As of now, agriculture still employs over a third of Uzbekistan's population of 31.8 million. In order to achieve a measure of financial prosperity while subsequently lowering poverty rates and raising income rates, this nation must invest in the 58.5 percent of its population below the age of 30. Let's take a look at how to help people in Uzbekistan.
SOS Children's Villages in Uzbekistan
One way to help people in Uzbekistan is by donating to SOS Children's Villages International, or specifically to one of its many bases in Uzbekistan. Founded by Hermann Gmeiner in 1949, this organization worked to provide orphaned and abandoned children with loving families after World War II. Today, this program has placed 577,000 children into healthy alternative care. On top of this, last year 297,000 children were reported to be learning at SOS Children's Villages' schools, training centers, and social centers.
In Uzbekistan, many children are forced to drop out of school at a young age and are exploited within the cotton industry. Oftentimes, young children are sent out to live, work and earn for their families. This ends in this nation's youth fending for themselves on the street in order to survive. Without programs like SOS Children's Villages, these young people are placed into institutions, which only perpetuates the trend of young adults unable to act independently. Reports relay that the majority of girls leaving institutions marry early, start families young and never achieve the educational and professional potential of which they are capable. Allowing this institutionalization empowers the cycle of poverty prevalent in Uzbekistan. By helping or donating to SOS Children's Villages in Uzbekistan, you could be a powerful force in the creation of better, safer lives.
The Cotton Campaign
Another way to help people in Uzbekistan is by supporting The Cotton Campaign, a coalition working in the service of human rights and the eradication of both child and forced labor. Each year during the harvest season, the Uzbek government is responsible for forcing adults and children alike out of their jobs, homes and schools in order to contribute to its annual cotton quota. While this is dangerous enough with consideration to the health of these forced laborers, who are more often than not placed into unsafe housing, exposed to harmful chemicals and forced to pick beyond their limits, the power the government holds over these citizens compromises both their education and their profession.
The Cotton Campaign works to help people in Uzbekistan by mobilizing communities, organizations and individuals to advocate against the exploitative terms of citizenship in Uzbekistan. In educating potential lobbyists about the necessary ramifications and laws that need to pass through the Uzbek government, this coalition gives each individual the power to work against this existing inhumanity. By supporting their efforts, you can contribute to the end of modern-day slavery.
Both of these organizations are doing important work to help people in Uzbekistan. By donating, volunteering or raising awareness, you can contribute to improving the lives of Uzbekistan's impoverished people.
– Briana Fernald
Photo: Flickr
https://borgenproject.org/wp-content/uploads/logo.jpg
0
0
Kim Thelwell
https://borgenproject.org/wp-content/uploads/logo.jpg
Kim Thelwell
2017-10-15 01:30:09
2020-02-06 09:08:43
How to Help People in Uzbekistan