Health Issues Grow for Afghan Refugees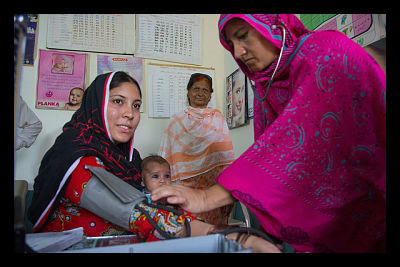 The Soviet occupation of Afghanistan in 1979 resulted in millions of Afghans seeking refuge in neighboring countries, specifically Pakistan and Iran. Today, Afghans account for the greatest number of displaced persons in the world. With over 1.6 million registered Afghans located in the country, Pakistan is struggling to accommodate the unmet health needs of local women.
The World Health Organization describes war as "the most serious threat of all to health." Unfortunately, this seems to be true in many refugee camps located in Pakistan, where reproductive health needs remain untreated. During the first wave of refugees, communicable diseases, such as malaria, were among the greatest concerns for the population. Nowadays, the focus has shifted to address the growing demands of Afghan women in regards to maternal health.
After conducting a needs assessment, the International Rescue Committee (IRC) concluded that there has been a lack in reproductive health services in refugee camps. The primary area of concern continues to be the surplus of high-risk pregnancies. Malnutrition, poverty and under-use of prenatal services all contribute to the endangerment of a mother and her baby.
However, these are not the only factors that cause Afghan refugees to remain a vulnerable population.
Due to many cultural constraints, women can only receive clinical care and health education from other women. This proves troublesome in many camps where female physicians are limited. The IRC also found that although 80 percent of pregnant women attend between one and three prenatal appointments, only half of them were accompanied by a trained health professional during labor.
Inadequate access to transportation tends to hinder women's ability to seek health services in the case of an emergency, thus forcing many Afghan refugees to give birth at home without any medical supervision. In the few cases where an Afghan woman may be able to reach a local hospital, a male relative must accompany her–but that cannot always be guaranteed.
Fortunately, there have been recent solutions to this ongoing health crisis.
Government-run health care facilities, or Basic Health Units (BHUs), are growing in popularity in the outskirts of the country. Although some BHUs have already been established, they have rarely been seen in remote towns such as Chamkani, located in Peshawar. However, in 2012, the Chamkani project started operations, establishing seven BHUs in various parts of Peshawar.
The United Nations High Commissioner for Refugees (UNHCR) created the Refugee Affected and Hosting Area program to strengthen these government-run health centers, improve infrastructure and rehabilitate the environment of over 40 rural cities by various projects.
According to UNHCR, the Chamkani project has built a multitude of labor rooms, recovery rooms and waiting areas in the seven new BHUs. They have also provided more medical equipment and training to traditional midwives.
Local interviews suggest that Afghan refugees in Chamkani feel more comfortable because a health clinic is nearby, meaning they will not have to wait for a male to escort them. The Chamkani project also considers the financial situation of many refugees. The women only have to pay five rupees for an ultrasound examination, a procedure that would be exponentially more expensive at a hospital.
While Afghan refugee women still continue to endure hardships during pregnancies, the BHUs have greatly improved their lives and provided them better medical treatment in a timely manner. As Winston Churchill said, "Healthy citizens are the greatest asset any country can have."
— Leeda Jewayni
Sources: UNHCR, Rescue.org, RHRC
Photo: Pakistan Today
https://borgenproject.org/wp-content/uploads/logo.jpg
0
0
Borgen Project
https://borgenproject.org/wp-content/uploads/logo.jpg
Borgen Project
2014-09-27 08:00:39
2020-07-16 21:07:45
Health Issues Grow for Afghan Refugees