Haiti Babi: Moms Helping Moms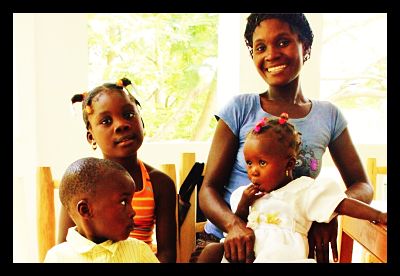 When Katlin Jackson volunteered at an orphanage in
Haiti
, she expected to do a lot of important work.  What she didn't expect was how her trip inspired Haiti Babi, an organization that aims to keep Haitian children in their homes and out of orphanages.
One in ten children in Haiti lives in an orphanage.  That's nearly 500,000 kids who don't live with their parents.  Many of them aren't even orphaned; their parents just can't afford to provide for them, so they are removed from their care and placed in orphanages.  As a volunteer, Katlin met and fell in love with one of these "orphans".  One year old Sterly, like so many residents, had been taken from his parents not because they had died or mistreated him, but because they couldn't afford a house, food, or basic medical care.
On a second trip to Haiti, Katlin was able to visit Sterly and his family after they had been reunited.  She was able to see firsthand the love in Sterly's home, and that his parents wanted nothing more than to be able to care for and be with their son.  Katlin left Haiti with her mind made up that a loving family should not be forced apart due to poverty.  So she founded Haiti Babi, an organization that employs Haitian mothers wanting to provide for their children.
Haiti Babi, partnered with Second Mile Ministries in Haiti, enables Haitian moms to earn a reliable income for their family by knitting and crocheting artisan baby blankets.  Mothers around the world have the opportunity to support these women by purchasing their quality, handmade products online.  The sentiment behind the idea: moms helping moms.
So next time you're in the market for a baby blanket, buy one that can warm your heart; a Haiti Babi blanket, handmade by a mother, doing everything she can for the children she loves.
– Dana Johnson
Source: Haiti Babi
https://borgenproject.org/wp-content/uploads/logo.jpg
0
0
Borgen Project
https://borgenproject.org/wp-content/uploads/logo.jpg
Borgen Project
2013-05-16 05:00:29
2020-05-29 21:48:26
Haiti Babi: Moms Helping Moms