Global Financing Conference Looks to End Poverty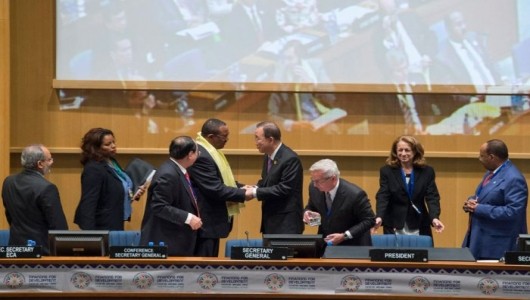 On July 15, leaders from all over the world will gather at a global financing conference in Addis Ababa, Ethiopia's capital, to discuss major reforms and policies to make a legitimate dent in the issue of global poverty. This meeting marks the first of three summits in 2015 that aim to lock down funding for poverty programs worldwide. World Bank leader Jim Yong Kim summarized the magnitude of the summit by saying, "If we seize this moment we can accomplish the greatest achievement in human history." The success of this and subsequent summits may finally put humanity on the correct path for eliminating poverty.
A topic of discussion at this summit will be on how to expand on the Millennium Development Goals, a set of eight target goals set in 2000 to combat poverty. These goals were set to expire after fifteen years, when a new summit would meet to establish new goals moving forward. The upcoming summit in Addis Ababa will spend time creating what will be known as the Sustainable Development Goals (SDGs).
The SDGs will be designed to reflect the changes in the global economy that have occurred since the initial MDGs were created. An excerpt from the World Bank's website says, "The global development landscape has changed since the MDGs were adopted in 2000. Middle-income countries now account for a much larger share of global GDP. At the same time, inequality within many countries is on the rise and the gap between the rich and the poor is growing." World leaders will assess a variety of new data to develop effective plans to reduce future poverty.
In order to make the eradication of poverty a reality, nations participating in this summit are preparing to raise the amount of money contributed to fighting poverty from billions to trillions of dollars. The funds necessary to achieving this goal will come "from private investment and domestic tax revenues. Foreign aid is already dwarfed by private financial flows, but it is still a precious resource, important because it reaches people and challenges that private finance alone cannot," as reported by The Guardian.
This summit may be key in setting the stage for an entirely new era in our planet. The results of this summit and the ones that follow might be the pivotal step for stepping out of the overbearing shadow of poverty and into a bright future for generations to come.
– Diego Catala
Sources: The Guardian, World Bank
Photo: UN
https://borgenproject.org/wp-content/uploads/logo.jpg
0
0
Borgen Project
https://borgenproject.org/wp-content/uploads/logo.jpg
Borgen Project
2015-08-05 07:29:55
2020-07-02 13:10:11
Global Financing Conference Looks to End Poverty