Global Aid: Addressing El Niño Environmental Poverty Crisis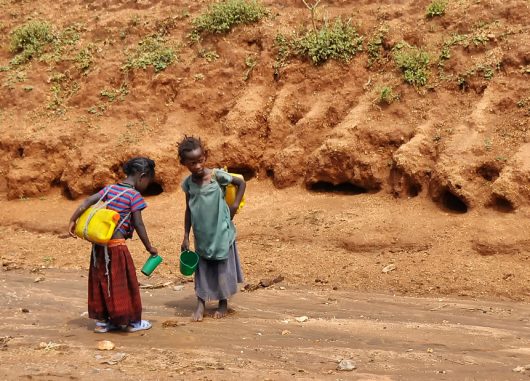 The 2015-2016 El Niño was only the third 'Super' El Niño in recorded history. Experts fear this event's impacts may have been further worsened by global warming. Those impacts have fallen disproportionately on some of the most impoverished areas of the world, and aid is needed to address the El Niño environmental poverty crisis now affecting millions of people.
El Niño, an array of global changes in climate patterns due to the warming of surface waters in the Equatorial Pacific, is not an uncommon event. Typically it is expected every three to seven years. However, the 2015-2016 El Niño produced record-level climate events, unprecedented even in an El Niño year.
In the 2015 northern Pacific hurricane season 25 level four and five hurricanes developed. The previous annual record was only 18. Meanwhile, Eastern Africa is experiencing its worst drought in 60 years. Globally, 2015 temperatures were at a record high resulting in El Niño and global warming pushing climate patterns in the same direction.
El Niño has had a dire impact on the global poor, with many of the hardest hit areas having insufficient infrastructure to confront the damage. Oxfam notes that the current El Niño cycle has placed 60 million people in danger of hunger.
While the climate changes associated with El Niño are fading as it comes to an end, the livelihood-related damage it has caused continues to wreak havoc on the security of impoverished communities.
In areas like Eastern Africa, the failure of crops and the death of cattle will require substantial recovery efforts. As wells go dry, it is not uncommon for drought-displaced families to spend months on end sleeping on the floor of relief centers.
The El Niño environmental poverty crisis reaches across the globe.  Environmental poverty as a result of drought has put 1.5 million Guatemalans in need of food assistance. 3.5 million people are struggling for food in Haiti, where El Niño amplified the preexisting conditions of a 2014 drought. 15 percent of the population in Honduras and three million in Papua New Guinea are at risk for the same reason.
With these figures representing a mere fraction of the countries and communities suffering due to El Niño, the need for support is expansive. Thankfully, significant action is being taken by the international community and significant aid is being mobilized.
The European Union has contributed 125 milllion euros to areas affected by El Niño, dispersing the aid throughout Africa, Central and South America and the Caribbean. This record-breaking contribution from the EU towards the El Niño crises will fund emergency actions.
USAID has relied on early tracking of El Niño-related crises to make their relief actions as effective as possible. They are using in place mechanisms designed to push emergency funds into relevant development programs, while also adjusting existing development programs to accelerate recovery. USAID is focusing their humanitarian aid on the most affected areas, addressing, and often mitigating disaster.
Finally, technological aid has also been a source of relief. Partnerships like UNICEF and the Ethiopian government have allowed satellite technology to be implemented to better locate well-sites and map drought-affected areas.
The combination of technological, financial, and humanitarian aid has been instrumental in addressing the environmental poverty spurred by the 2015-2016 Super El Niño. While these environmental conditions have been disproportionately destructive to the poor, these mechanisms continue to work to mitigate the effects of the El Niño environmental poverty crisis.
– Charlotte Bellomy
Photo: Flickr
https://borgenproject.org/wp-content/uploads/logo.jpg
0
0
Borgen Project
https://borgenproject.org/wp-content/uploads/logo.jpg
Borgen Project
2016-06-27 01:30:19
2020-06-12 08:35:58
Global Aid: Addressing El Niño Environmental Poverty Crisis