Girls' Education in Paraguay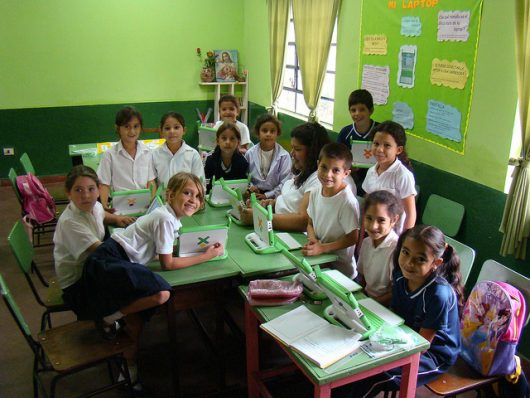 In eastern Paraguay, both deforestation and poverty continue to run rampant among inhabitants of the Atlantic Forest. An area wherein a majority of the people are uneducated, girls continue to be largely denied access to an adequate education.
Statistics On Girls' Education in Paraguay
The literacy rate of girls 15-24 years old in Paraguay has risen to 98.62 percent as of 2015. However, while a majority of girls in the country are literate, the retainment rate of girls in schools is low. From completion of primary school to upper secondary school, the participation of girls drops 25 percent, from 86 to 61 percent. Additionally, as of 2012, 42,486 female children and 29,531 female adolescents remain out of school.
Approximately 70 percent of girls in the area are pregnant by age 16, largely due to poor education and impoverished living conditions for women. One school, the Centro Educativo Mbaracayu, is seeking to alleviate these problems and help girls' education in Paraguay.
The Centro Educativo Mbaracayu
Founded in 2009, the Centro Educativo Mbaracayu is a boarding school exclusively for girls. The school sits on the Mbaracayu Forest Nature Reserve, which protects the largest portion of the remaining Atlantic Forest. Although the Atlantic Forest contains hundreds of native and endangered species, only about 7 percent of the original forest remains. The Centro Educativo Mbaracayu, started by the NGO Fundación Paraguaya, teaches its students to take care of the forest around them while also educating them in other areas.
The school exclusively caters to rural and indigenous girls, a group severely disadvantaged by the Paraguayan education system. One of the benefits of the forest school is the cost accessibility for its students. Tuition is free for indigenous girls and is 100,000 guaraní (approximately $17.50) for non-indigenous girls. Centro Educativo Mbaracayu is able to keep costs low for its students by operating self-sufficiently.
One of the important aspects of the schools' curriculum is its focus on reproductive and sexual education. The severe lack of reproductive education in Paraguay is arguably one of the main causes of young pregnancies in the country. By promoting reproductive health and sexual education, instructors at Centro Educativo Mbaracayu hope to help their students achieve their degrees — not only as a tool to achieve better socioeconomic standing, but also to instill confidence and self-worth into the girls.
Beyond sexual education, the school teaches the girls techniques for agribusinesses and IT skills. Students can also study differing applied skills specializing in textiles, tourism and environmental management. All classes are taught alongside and in accordance to national Paraguayan educational standards, in order to broaden girls' education in Paraguay while still complying with national standards.
Graduating from Centro Educativo Mbaracayu
Upon graduating from Centro Educativo Mbaracayu, students receive high school diplomas in Environmental Sciences as technicians and are highly encouraged to pursue higher education.
Since its founding the school has graduated Paraguay's first female forest ranger, two primary school teachers in the community and a hopeful future president, just to name a few. More importantly, every girl at the school leaves knowing her worth and having learned many invaluable skills.
While living and learning at the school, a community is formed. A community that highly values its female students and its forest environment. The girls are taught to care for the forest and the animal inhabitants within it while gaining skills in sustainable forestry.
The goal of the school is rehabilitation and growth. Rehabilitation for the shrinking forest and growth for Paraguayan girls who have previously been undereducated. By teaching and taking care of the region's girls, the school is in turn taking care of its forest and starting a movement for better girls' education in Paraguay.
– Savannah Hawley
Photo: Flickr
https://borgenproject.org/wp-content/uploads/logo.jpg
0
0
Borgen Project
https://borgenproject.org/wp-content/uploads/logo.jpg
Borgen Project
2018-06-25 01:30:55
2019-12-18 09:39:12
Girls' Education in Paraguay