Ghana: A Poverty Success Story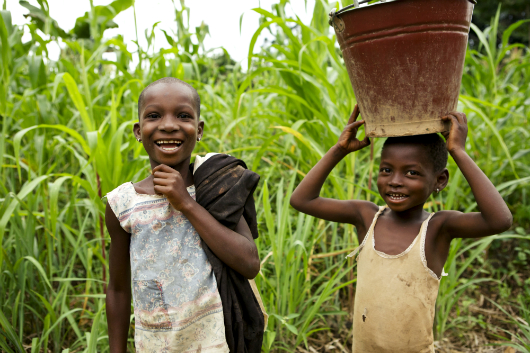 While this may come as a shock, Ghana has recently been proclaimed a poverty alleviation success story. Sergiy Kulyk, the World Bank Country Coordinator for Ghana, Liberia and Sierra Leone, is certainly a credible source. He applauds the anti-poverty action that has taken place in Ghana, and plans for an even brighter future.
Through a carefully crafted recipe of World Bank support, social protection, and government intervention, Ghana has been able to overcome major economic and societal hurdles. It was the first in sub-Saharan Africa to achieve the Millennium Development Goal of reducing poverty and hunger ahead of the 2015 deadline.
Kulyk originally recommended a reverse mission between the World Bank and Ghana under Ghana's Social Protection program. This was the first of its kind in the history of the World Bank's relations with Ghana. Its theme, "Safety nets in Ghana- Innovation and Successes," helped guide anti-poverty action in the right direction.
Currently, the World Bank supports Social Protection interventions in Ghana through an $88.6 million Social Opportunities Project. Additionally, $50 million is financed for ongoing projects, making the Bank's total contribution $138.6 million. In the future, the Bank will continue to help reverse Ghana's poverty situation.
In terms of social protection, there are forty-four programs targeting extremely poor individuals, households, and entire communities in Ghana. For Ghana's most vulnerable and severely marginalized, these mechanisms bring the social assistance and capacity enhancement needed to break out of poverty.
The government is currently working to ensure that the living conditions of Ghana's poor population are improved through social intervention programs. Specifically, labor-intensive programs implemented across sixty districts will soon be scaled up in order to achieve the best poverty-reducing and livelihood-improving results.
In countries like Bangladesh, Mexico, and Ghana, regular cash and asset transfers to the poor have helped alleviate poverty by securing food needs and improving access to health and education. Additionally, small, regular income transfers enable the poor to make small investments — a hugely important step in poverty reduction.
It is important to note that while Ghana has successfully cut poverty in half, nine years from now approximately 6 million people will still live in poverty, with 2.2 million living in extreme poverty. Although this does not negate the significance of what has already been achieved, it is a crucial reminder of what is to come.
It is true that there is no perfect model for poverty alleviation. However, there are certainly key elements of focus that have consistently brought the most significant results. By adhering to this wide-reaching, gradually emerging poverty-fighting recipe, Ghana has made leaps and bounds in its poverty fight.
The most common poverty-fighting packages include some combination of microcredit financial aid, public works, training, agricultural extension services, financial literacy and links to credit units. In other African countries like Rwanda, childhood development and childcare services have become key areas of focus too.
Poverty is a complex issue that can be attacked from an infinite number of points. Depending on the time, place, and people involved, target areas fluctuate in terms of severity and significance. Still, at the most basic level, there is a lot to be learned from such success stories. Hopefully, Ghana's model will spur more like its kind.
– Sarah Bernard
Sources: Graphic Online, allAfrica
Photo: Flickr
https://borgenproject.org/wp-content/uploads/logo.jpg
0
0
Borgen Project
https://borgenproject.org/wp-content/uploads/logo.jpg
Borgen Project
2015-07-02 15:44:43
2020-07-14 08:59:19
Ghana: A Poverty Success Story