Food Crisis in South Sudan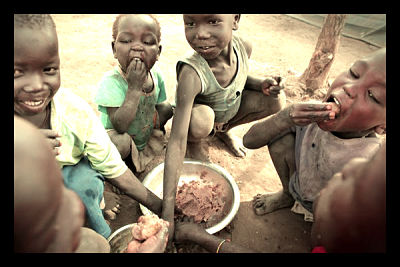 On July 9, 2011, the Republic of South Sudan gained independence from Sudan.  Since then, the newly formed nation has been engulfed in internal conflicts, claiming the lives of up to 10,000 people.  The violence has caused over 870,000 South Sudanese to flea their homes, of which over 140,000 have escaped to neighboring countries.
The displacement has disrupted the nations already unstable agriculture sector. Markets have been disrupted as the food supply chain is broken and foreign investors try to avoid the conflict.  According to United Nations estimates, 3.7 million people were already facing food insecurity, but the new wave of violence that erupted in December of 2013 has raised this figure to almost 7 million. There is a major food crisis in South Sudan.
The timing of the conflict could not have been worse as local farmers are gearing up to plant their crops for the incoming season.  Constant relocation is forcing millions to rely on scarce food aid.  In some cities like Malakal, desperate populations have begun raiding aid supply stored in warehouses.  The UN Food and Agriculture Organization (FAO) warned that if farmers miss the planting season, it would compound food insecurity issues for this year and 2015.
Farmers that remain tied to their land are facing a shortage of agriculture inputs such as seeds and tools to cultivate their crops.  The FAO is seeking $77 million to assist the Republic of South Sudan in implementing an emergency response plan.  Their aim is to deliver farming tools, seeds and fishing equipment to 545,000 households in some of the more war-torn states of the country.  The FAO has collected just 6 percent of its total donation goal.
To complicate matters further, migrant animal herds are now intermingling with displaced human populations and their livestock.  These unvaccinated animals have potential to transmit disease and cause further complications for public health and food safety initiatives.  To combat the collapse of the vaccine supply chain, the FAO is working to build capacity within local communities and deliver basic health support.
The UN mission in South Sudan is increasing its support with 266 peacekeepers being flown in on February 4, 2014.  In total, the UN has over 12,500 peacekeepers and 1,323 police on the ground.  The UN through the FAO and the World Food Program have teamed up with ACTED, OXFAM, Save the Children, Concern Worldwide, Mercy Corps, and Joint Aid Management to provide much needed assistance throughout the country.
For anyone seeking to get involved in the food crisis in South Sudan, through volunteering and donations, please visit the World Food Program.
– Sunny Bhat
Sources: New York Times, UN News Center, BBC
Photo: WFT
https://borgenproject.org/wp-content/uploads/logo.jpg
0
0
Borgen Project
https://borgenproject.org/wp-content/uploads/logo.jpg
Borgen Project
2014-02-12 13:48:57
2014-03-28 10:48:55
Food Crisis in South Sudan