The Link Between Fast Fashion and Poverty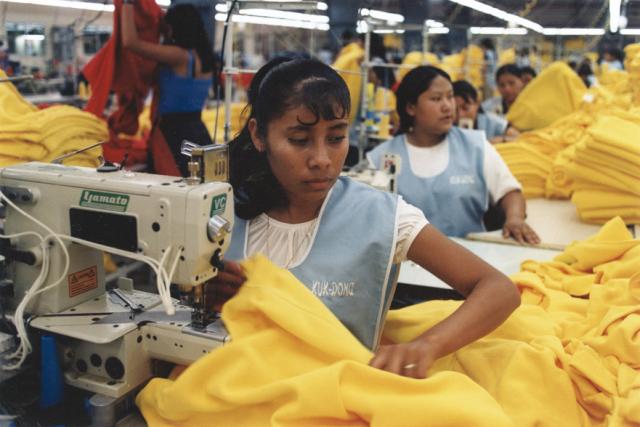 Fast fashion has been an ever-growing presence within first world countries since the 1990s. At first glance, consumers purchase cheap and trendy outfits for a fraction of the price of high-end brands. However, beneath the surface, impoverished workers in developing countries are toiling in dangerous sweatshops for minimal pay. These supply chains show a direct link between fast fashion and poverty.
Many fast fashion companies, such as Forever 21 and H&M, receive new clothing shipments every day, while Topshop features 400 styles per week. These brands are able to produce apparel at rapid speed because they do not interact with production, and instead outsource to supplier firms in developing countries. These firms then subcontract production to unregistered suppliers that operate under no government regulation. This means that brands are not legally obligated to ensure safe working conditions. This process takes advantage of the less fortunate. For this reason, more people should be aware of the processes behind their fast fashion finds.
Unethical Production Practices
Due to the fact that many sweatshops reside in countries with inadequate labor laws and little government oversight, working conditions are dangerous and dehumanizing. These sweatshops prey on the poorest people who do not have the luxury to turn down any form of work. In many manufacturing countries such as China, India and Bangladesh, the minimum wage only ranges from a half to a fifth of the living wage required for a family to meet its basic needs. Furthermore, the average worker in an Indian sweatshop makes just 58 cents an hour, and in Bangladesh this drops to 33, linking fast fashion to the cycle of poverty.
Dangerous Working Conditions
Along with the miserable pay, working conditions in sweatshops are often incredibly dangerous. Garment workers have to work 14-16 hours a day, seven days a week while facing verbal and physical abuse from overseers. Employees often work with no ventilation while breathing in toxic substances. Accidents and injuries are also common; the 2013 Rana Plaza collapse in Bangladesh provides a grisly example. The collapse of the Rana Plaza factory caused over 1,000 garment workers to die on the job.
Child Exploitation
While these companies prey on the poor, they especially prey upon children in poverty. A report investigating mills in India found that 60% of the workers were under 18 when they began working. Trapped in the vicious cycle of poverty, these children are extremely susceptible to forced labor in sweatshops. These unethical labor practices demonstrate how fast fashion and poverty are intermingled.
Apparel Companies Working for Change
Fast fashion companies that use unethical production are among some of the most prominent leaders in the industry, including Urban Outfitters, Forever 21, H&M, Zara and more. However, in response to these widespread atrocities, many apparel brands have made a conscious effort to utilize ethical production practices.
One of the most well known Fairtrade certified brands is Patagonia, a company that offers more Fair Trade Certified styles than any other apparel brand. In response to prominent injustices, the company has built a social responsibility program to analyze their impact on workers and communities. In addition, since Patagonia does not own any factories, it is partnering with production companies across the globe to ensure ethical practices. The company strives to be a positive force that "not only minimizes harm but also creates a positive benefit for the lives they touch through their business."
Know the Origin is another Fairtrade brand that works to be transparent about their production practices. This brand goes above and beyond paying minimum wages and ensuring safe working conditions. Know the Origin is working to create sustainable employment opportunities that help lift communities out of poverty. Able is another Fairtrade brand that centers on ending generational poverty. As over 75% of apparel workers are women, Able focuses on lifting women out of poverty through stable working positions. While these are some of the most prominent Fairtrade companies, there are many more that any consumer can discover with a few quick minutes of research.
Why You Should Vote With Your Dollar
These Fairtrade brands are paving the way for a new type of ethical apparel production. The apparel industry has the ability to provide dignified jobs for impoverished communities rather than forcing them further into poverty. While increased prices make many Fairtrade products inaccessible to those in poverty, a significant number of people who buy fast fashion have the means to buy Fairtrade. In the end, change must occur at the hands of fast fashion companies to make a permanent difference. However, consumers can still make an impact by pushing them to make this change. When consumers choose to buy Fairtrade, they show their demand for ethically-made apparel.
As a consumer, you can act for change. In buying Fairtrade, you refuse to funnel your money into an industry that abuses and torments impoverished communities. You communicate that you are against the sweatshops that force workers to endlessly toil for minimal pay. You show that you care about the world's poor.
– Natascha Holenstein
Photo: Flickr
https://borgenproject.org/wp-content/uploads/logo.jpg
0
0
Kim Thelwell
https://borgenproject.org/wp-content/uploads/logo.jpg
Kim Thelwell
2020-08-05 01:30:58
2020-08-03 10:41:47
The Link Between Fast Fashion and Poverty