5 Facts About Poverty in Sri Lanka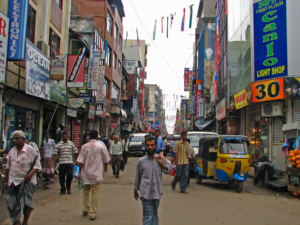 Sri Lanka is an island country that has 21.7 million inhabitants. However, that number sharply increases throughout the months of December to March as tourists flock to the island to visit its alluring beaches and mountainous terrain. The island nation resembles a tropical paradise, but poverty in Sri Lanka remains a critical concern as the country is still recovering from the tumultuous 30-year civil war which occurred from 1983 until 2009. Over the past decade, Sri Lanka has focused on reconstructing its economy and restructuring the distribution of wealth. The nation has made significant improvements but many serious issues remain in regard to poverty and the reconstruction process. Here are five facts about poverty in Sri Lanka.
5 Facts About Poverty in Sri Lanka
Economic Growth and Living Standards: The poverty rate of Sri Lanka (excluding the Northern and Eastern provinces) decreased from 22.7% in 2002 to 6.1% in 2013. Unfortunately, the nation's living standards do not reflect the same improvement. In 2013, approximately 45% of the population survived on less than $5 per day. However, the Sri Lankan economy has grown at an average of 5.6% over the past 10 years. This significant growth rate is expanding the middle class, improving purchasing power and increasing the disposable income of Sri Lankan citizens. Consequently, experts expect that living standards in Sri Lanka will improve in the years to come.
Rural Versus Urban Regions: Sri Lanka has a large rural sector which causes an unequal spatial distribution of wealth. In 2013, 75% of Sri Lanka's total population and more than 85% of Sri Lanka's poor population lived in rural areas. The country's wealth largely concentrates in urban centers, limiting poor, rural citizens' access to resources and establishing a correlated pattern of economic inequality. After the Sri Lankan Civil War ended in 2009, the nation began rebuilding its economy with a focus on manufacturing and important services. This focus encourages the expansion of an urban-based economy which will help to spread resources and balance the apparent economic inequality.
The Agriculture Industry: Almost 30% of Sri Lanka's workforce and about 50% of the employed poor work in the agriculture industry. The agriculture industry typically has lower wages and fewer opportunities to advance compared to jobs in other sectors. Therefore, it is difficult for poor Sri Lankans in the agriculture sector to increase their annual income and improve their social standing, further perpetuating the rural pockets of poverty in Sri Lanka. Urbanization helps to counteract this phenomenon as it enables rural inhabitants to experience the resources and opportunities that were once concentrated in Sri Lanka's crowded cities. This structural transformation provides a wider array of choices in terms of employment and leisure, and it encourages poorer citizens working in the agriculture sector to engage in more productive industries which resultantly challenges the cycle of poverty in Sri Lanka.
Key Development Indicators: Other socioeconomic issues, such as malnutrition and climate change, directly affect Sri Lanka's poverty rate. According to the World Food Programme (WFP), 22% of Sri Lankans are undernourished or malnourished which signifies that many citizens lack necessary vitamins and minerals. Climate change also negatively affects the poverty rate in Sri Lanka as severe floods and droughts threaten food security and limit access to clean water. To combat these issues, the Sri Lankan government partnered with the World Food Programme to provide "technical and policy support to build national capacity to ensure access to food, end malnutrition and improve the productivity and incomes of smallholder farmers." Additionally, the Sri Lankan government has made significant advances in reducing maternal mortality and increasing access to primary education. The percentage of skilled practitioners attending births in Sri Lanka has dramatically increased in recent years. Resultantly, Sri Lanka's maternal mortality ratio has decreased from 500-600 maternal deaths per 100,000 live births to 60 maternal deaths per 100,000 live births in 2020. Education is a primary focus for the Sri Lankan government, as education is one of the most salient factors in alleviating poverty. Today, 99.08% of children ages 5 to 14 years old attend primary school in Sri Lanka.
COVID-19: Predictions determine that Sri Lanka will experience a 25% (or $750 million) decrease in exports due to COVID-19. The global pandemic has dramatically reduced Sri Lanka's export earnings, consumption and investment. As a result, top export industries (apparel, tea and rubber) have had to deliver devastating job and earning cuts. Social distancing requirements continue to restrict job performance and tourism, thereby threatening the stability of the economy and the national poverty rate. While the country braces for the economic impact, the government has focused on efforts to contain the spread of the virus. In April 2020, the Sri Lankan government issued a 24-hour curfew, closed all international flights and increased coronavirus testing to slow its spread. These measures made identifying cases of coronavirus quicker and easier which prevented thousands of more deaths from occurring and limited the damage to the national economy and poverty rate.
While these five facts about poverty in Sri Lanka show the country's challenges, it has made significant strides to reduce its poverty rate. Through its continued work independently and with NGOs like the World Food Programme, the country should be able to continue alleviating its poverty rate.
– Ashley Bond
Photo: Wikimedia Commons
https://borgenproject.org/wp-content/uploads/logo.jpg
0
0
Jennifer Philipp
https://borgenproject.org/wp-content/uploads/logo.jpg
Jennifer Philipp
2020-07-13 07:30:39
2022-04-01 07:13:50
5 Facts About Poverty in Sri Lanka