Top 10 Facts About Girls' Education in Sudan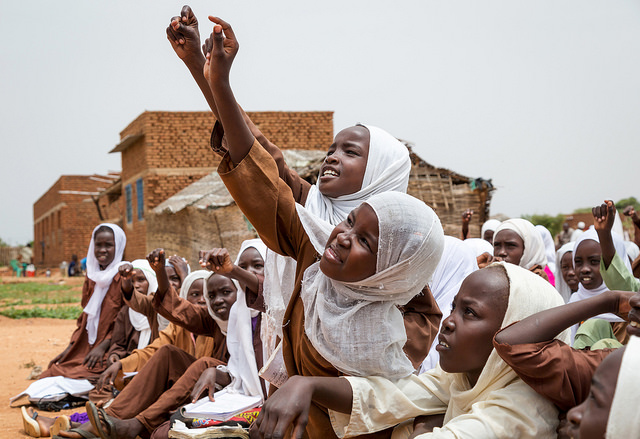 Facts about girls' education in Sudan are startling as females are at a clear disadvantage. Girls in Sudan are more likely to be illiterate than their regional counterparts, which is concerning as the region around the nation is plagued with female educational suppression.
Facts About Girls' Education in Sudan
According to UNICEF, 49 percent of girls are missing out on primary education. As of 2017, a total of three million children have been left out of Sudan's education system, half of them being girls.
In general, Sudan has unegalitarian views towards women. Sudan's legal system is a strict form of Sharia Law, which limits the rights of women in many respects. The nature of such laws has seeped into Sudanese culture, thus affecting the quality and quantity of girls education for the worse. These laws include punishment for not wearing religious garb in public and institutionalized discrimination against women. When the mantra of the government and its laws is anti-women, the educational system will most likely be anti-women as well.
The laws in Sudan regarding education do not guarantee safety against discrimination. Educators can then easily implement their views on who they allow to enroll in schools. Such views are the norm in Sudan, as is the opinion that women should aspire to be a housewife for their ultimate goal. Sudanese culture follows a strict interpretation of Islam and is often a culture that allows female genital mutilation, honor killings and other violations against women. Such an environment would be hard pressed not to extend such discrimination to education.
In Sudan, the enrollment rate for girls in primary school is lower than that of boys, and there is also a significant gap in literacy between boys and girls.
The quality of  teachers is very low in Sudan in comparison to the rest of the world; there may be up to 110,000 unqualified teachers teaching in Sudan, as 48 percent of teachers in Sudan have only completed primary education. On average, children in Sudan experience either no education (as Sudan has one of the highest out-of-school-children rates in the world) or very poor education from unqualified teachers.
A severe lack of female teachers in Sudanese schools often creates a learning environment much more hostile to girls, which can then deter girls enrolling in school. Only 12 percent of South Sudan's instructors are female, and the data of female education rates across generations show less improvement over time.
The average household in Sudan contains 5.7 people; contrastingly, an United States household holds an average of 2.58 people. The cost of education in Sudan is not direct tuition, but rather similar to western universities and religious schools charge aside from tuition: textbooks, uniforms, exam fees, and even teacher salaries. This is very costly for many families, especially as poverty is extremely high in Sudan — 44.8  percent of the population live below the poverty line, and there is a 17 percent unemployment rate.
The large number of families who struggle with such costs generally have two options: (1) do not send their children to school (which is a partial explanation for why the educational enrollment rate in Sudan is very low) or (2) choose their favorite children to attend school. For the latter option, these favorites are almost unanimously boys which hurts girls educational opportunities.
Given the fact that normal schooling in Sudan is explicitly anti-women, it's very hard for girls in Sudan to receive an education, and the shortage of out-of-school alternatives really leaves Sudan's girls in a difficult place.
Fortunately, Sudan is not alone. The Global Partnership for Education Fund heavily funds the Sudanese government so as "to improve the learning environment in targeted areas; to increase the availability of textbooks; and to strengthen education planning and management mechanisms in the Sudan." In fact, $76 million has gone into a project known as the Basic Education Recovery Project which significantly helps girls education in Sudan.
Steps to Empowerment
These facts about girls' education in Sudan leave the international community with a daunting task — making change a reality in Sudan. Thankfully, such outcomes are occurring, but help is always needed and desired. Donating to organizations such as The Borgen Project that work to provide international aid is one of the best ways to help make change a reality.
– Daniel Lehewych
Photo: Flickr
https://borgenproject.org/wp-content/uploads/logo.jpg
0
0
Borgen Project
https://borgenproject.org/wp-content/uploads/logo.jpg
Borgen Project
2018-07-25 01:30:52
2019-09-12 10:43:03
Top 10 Facts About Girls' Education in Sudan