Europe Pushes for Improved Response to Migrant Crisis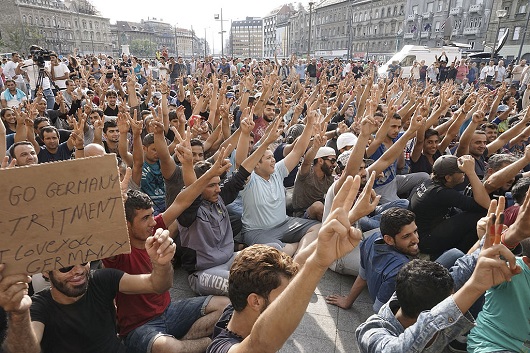 As the European Migrant Crisis intensifies, countries are more persistently urging the European Union (EU) to act. Top security officials representing France, Britain and Germany are pressing for better processing of migrants crossing over into southern Europe.
Since the start of the Syrian civil war in 2011, France, Germany and Britain have received a total of 920,000 asylum applications. Four years later, they are feeling the pressure to respond to these asylum seekers more than ever before. Unprecedented numbers of migrants are reaching EU borders, and the need for action is almost tangible.
Accordingly, the three countries are calling for reception centers to be set up in Italy and Greece in order to register new arrivals. The migrant centers would distinguish between genuine refugees and economic migrants. The refugees in need would be allowed to stay, and the economic migrants would be returned home.
The countries—Germany especially—are also asking the EU to release a list of "safe countries of origin," which would theoretically allow asylum applications to be more quickly registered based off of specific nationalities. Such a list could also free up resources to help those most severely in need.
In a joint statement, the countries called on Luxembourg to convene an emergency meeting between the home and the interior ministers of each member state within the next two weeks. At this proposed meeting, proposals could be discussed and then later voted on at the next scheduled meeting in October.
Establishment of "hot spot" detention centers in Greece and Italy would be at the head of the emergency meeting's agenda. Discussions would center on methods of ensuring that migrants are fingerprinted and registered in a timely manner, allowing authorities to distinguish those most severely in need of protection.
Angela Merkel, Germany Chancellor, made a statement calling on other member nations to follow Germany's lead by taking in more asylum seekers. Germany has indeed played a leading role throughout the crisis, as evidenced by the country's pledge to receive 800,000 migrants this year alone.
French Prime Minister Manuel Valls echoed Merkel's message, explaining that migrants who "are fleeing war, persecution, torture, and oppression must be welcomed". Unfortunately, leaders urging this type of progressive, inclusive message are facing intense opposition.
Theresa May, the British home secretary, recently said that the current levels of migration are unsustainable and that only European migrants with a job lined up for themselves should be allowed into the United Kingdom.
May argued that the migrant crisis puts pressure on infrastructure, like housing and transport, as well as public services like schools and hospitals. While her argument is not invalid, her attitude is certainly counterproductive in such a time of crisis.
It is true that intensified migration has put pressure on European infrastructure and public services, which is why every capable member state must work together to divide and conquer more efficiently. If every European nation were to take on the attitude of Mrs. May, the crisis would not only remain unsolved but would worsen.
At upcoming talks, all European participants must acknowledge this simple fact. Looking ahead, member states must assume positions of cooperation and humility. Developed nations need to collaboratively rise up to meet the challenge of the migrant crisis, and to address the needs of citizens fleeing war and persecution.
– Sarah Bernard
Sources: Haaretz, Breit Bart, Irish Times
Photo: Wikipedia
https://borgenproject.org/wp-content/uploads/logo.jpg
0
0
Borgen Project
https://borgenproject.org/wp-content/uploads/logo.jpg
Borgen Project
2015-09-05 01:05:40
2020-07-02 13:12:42
Europe Pushes for Improved Response to Migrant Crisis