Education in Libya During and After Gaddafi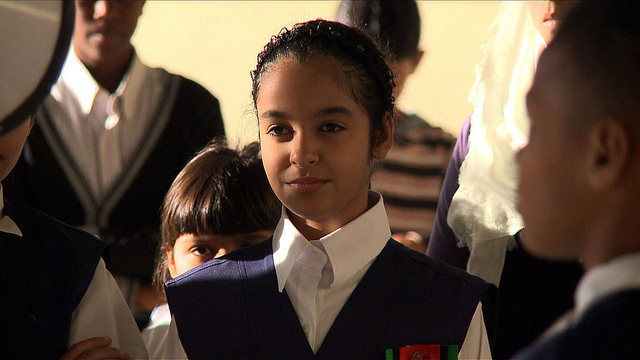 Education in Libya was faced with the tall task of rebuilding the war-torn infrastructure following the 2011 fall of former Libyan president Muammar Gaddafi.
The Libyan regime under Gaddafi saw education centralized. This meant that schoolchildren learned a skewed geography, used symbols and units of measurement that did not match international norms and the curriculum was tightly controlled for the purposes of indoctrination.
After years of conflict and the fall of the Gaddafi regime in Libya, the international community was tasked with rebuilding the country. Now, two million children under the age of 15 have seen a drastic overhaul of their formal education. Working alongside Libyan authorities, organizations such as UNICEF made great strides to jumpstart the educational system. Within months, schools were operational and steps were being made to reinvent the curriculum.
Educational experts are now in a position to correct the impacts of Gaddafi's influence. Libyan schoolchildren are now using accurate maps and standardized symbols. Of more cultural importance, Libya's children are able to openly discuss their country's history, including the events that led to Gaddafi's rise to power and subsequent fall.
Despite the newly revamped curriculum, higher education comes at a cost. During the Gaddafi era, education was compulsory but completely free of charge. Indeed, the government funded study abroad if certain educational programs could not be accessed within the country. Students in tertiary, or higher education programs are widely accessible in Libya today but are no longer funded by the government.
In spite of Gaddafi's infamous legacy, his reign was also marked by irrefutable gains in the educational system. Libya's citizens enjoyed unparalleled access to education and the literacy rate increased from 25 percent to 87 percent.
However, education in Libya has improved dramatically since 2011. Gaddafi's fall opened the country to a much-needed overhaul of the curriculum. Libya and the international community continue to make strides to solve factual inadequacies while maintaining its access to education. Furthermore, the literacy rate of 15-24-year-olds in Libya is a staggering 99.9 percent.
While it may not be a perfect system, the educational system in Libya can serve as a guide to countries tasked with rebuilding their infrastructure.
– Eric Paulsen
Photo: Flickr
https://borgenproject.org/wp-content/uploads/logo.jpg
0
0
Borgen Project
https://borgenproject.org/wp-content/uploads/logo.jpg
Borgen Project
2017-10-29 01:30:23
2019-12-31 13:06:00
Education in Libya During and After Gaddafi