A Look at Education in Guyana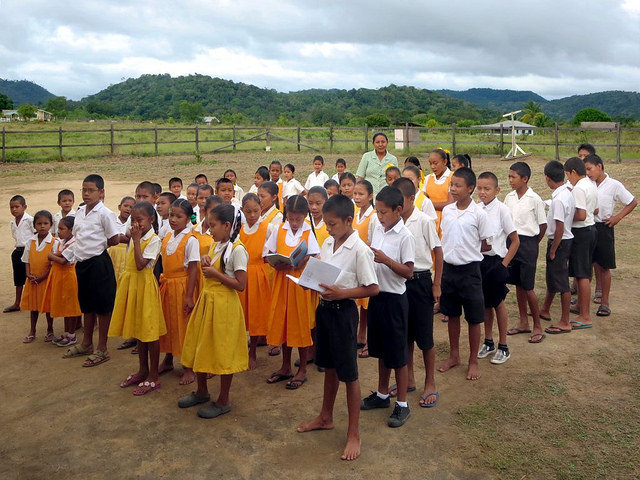 With at least 250 million children out of school, education remains a top priority for countries all over the world. The Millennium Development Goals and the Sustainable Development Goals had education-oriented targets that countries had to meet. While some countries did meet the targets for the Millennium Development Goals, a large portion of those countries were already developed, high-income countries.
Much like other lower-middle income countries, Guyana has had limited success achieving the Millennium Development Goal concerning primary education. The nation is located in South America, just north of Brazil and west of Venezuela. While it has made significant process in other areas, Guyana could do more for education.
Enrollment and Literacy
Perhaps the area with the largest room for improvement, Guyana only allocated about 4 percent of its GDP to education between 2006 and 2012. The lack of spending has led to a decrease in enrollment in primary school education, from 95 percent in 2005 to 84 percent in 2012. Meanwhile, the average amount of time a student should expect to receive education is approximately 10 years, or until they are 16 years old. Guyana's total literacy rate is approximately 89 percent. The youth literacy rate, however, is 93 percent, suggesting that Guyana's youth are becoming more educated overall.
Policy and Promotion
Although Guyana's government has not allocated a large amount of money for education, it still utilizes other methods to promote staying in school. According to Guyana's Ministry of Education, 2008 marked the beginning of the strategic plan intending to improve Guyana's quality of education and increase the number of students prepared for the workforce. As recently as 2014, the Ministry of Education has created more plans to encourage students to complete secondary education.
Guyana has also created a large media campaign called "Read. Play. Love." that stresses the importance of early education. Created through a partnership with the Global Partnership for Education, the campaign addresses parents of children under five and those who live in rural areas. The campaign provides a new way to instill the desire for lifelong learning in children.
Education in Guyana, as in any other country, is a complicated topic with no one-size-fits-all solution. Ways to innovatively address issues in education in Guyana can help lead to solutions for the rest of the world. With the increased spending by the government and more participation by parents, Guyana has the opportunity to make more improvements in education.
– Selasi Amoani
Photo: Flickr
https://borgenproject.org/wp-content/uploads/logo.jpg
0
0
Kim Thelwell
https://borgenproject.org/wp-content/uploads/logo.jpg
Kim Thelwell
2017-10-27 07:30:40
2020-01-10 12:30:06
A Look at Education in Guyana