Educating Girls on Feminine Hygiene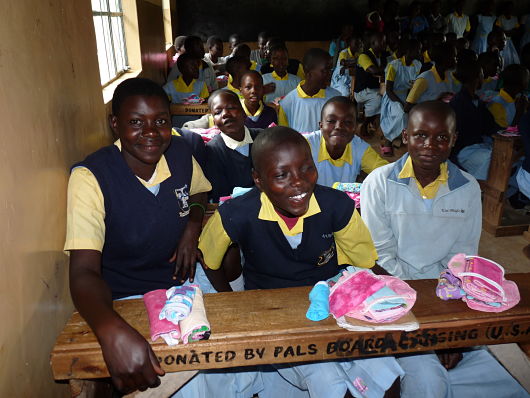 Women face challenges everyday across the globe, from discrimination to sexual harassment. However, their biggest obstacle comes once a month from their own bodies. Women and girls in developing countries find it hard to feel confident and practice proper hygiene. When girls are menstruating, they choose to stay home to prevent embarrassment from leaking. The Huffington Post found that some girls would go days without food or water sitting on cardboard until their period was over.
Women and girls in poor countries do not have easy access to sanitary pads, therefore the impact menstruation has on them affects their everyday lives. Indra, from Nepal says "I asked the neighbors to borrow some cloth, and I had to use it for five days without any chance to wash it," according to Water Aid. In developing countries clean water and private bathroom facilities are another challenge girls face. When girls do not feel comfortable attending school and women refrain working in fields, it sets them back from achieving their full potential.
An important aspect of feminine hygiene is education. "One study found that nearly 70 percent of girls had no idea what was happening to them the first time they menstruated," according to the Gates Foundation. This means their mothers lacked in educating their daughters on their bodies. With proper sexual education STD's can be prevented and early pregnancy can be avoided. Girls can also learn to keep track of their cycle and prepare for their period.
Although women and girls face challenges with their bodies, the organization Days for Girls International is fighting to improve the lives of women across the world. Days for Girls sells affordable sanitary kits with reusable pads, travel soaps, panties, and a Ziploc bag for soiled items. The social business Ruby Cup, has innovated a reusable silicon menstrual cup lasting up to 10 years and can be used up to 12 hours.
Every day girls get their period and the struggles girls face in poor countries are sometimes over looked. Businesses making this issue a primary focus will create better lives for girls who are losing a chance at education or income. By 2022, Days for Girls wishes to see every girl around the world access hygiene and education. If women and girls can continue to work in school and on the fields, the world can come closer to ending poverty with their constant efforts.
– Kimberly Quitzon
Sources: Huffington Post, Water Aid, Impatient Optimists, Days For Girls
Photo: Too Little Children
https://borgenproject.org/wp-content/uploads/logo.jpg
0
0
Borgen Project
https://borgenproject.org/wp-content/uploads/logo.jpg
Borgen Project
2015-06-15 08:15:59
2020-07-15 23:47:54
Educating Girls on Feminine Hygiene