How Discrimination Affects Global Poverty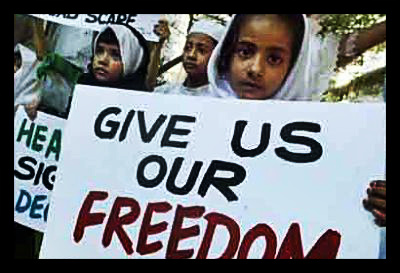 Discrimination affects global poverty by breeding an environment of inequality that limits one's access to fundamental rights and basic needs.
Discrimination against people or groups based on race, religion, ethnicity or other factors can foster segregation, which impoverishes the particular population who cannot obtain access to fundamental needs for basic living.
The groups discriminated against include minorities, indigenous people and migrants. Discrimination against these groups and poverty are connected in more ways than one. Being discriminated based on race or gender has a direct impact on one's economic opportunity and makes it increasingly difficult to navigate familial, social and economic institutions. Additionally, one's low economic status can be a target for discrimination causing a cyclical pattern between discrimination and poverty.
The link between discrimination and poverty is largely based on inequality in opportunity. In Burma, for example, widespread discrimination against minority groups such as Muslim minority groups has influenced the way in which that specific group lives. The marginalized minority group has been denied rights to citizenship, which restricts their access to employment, education, opportunity and fundamental living in general. Government forces also play an important role in the group's limited access to equality, partly due to unfair, violent and sometimes abusive treatments of the group solely based on religion and ethnicity. The discrimination observed in Burma has pushed the minority group into poverty due to restricted social and economic rights.
Furthermore, discrimination hinders one's ability to partake in government policies, especially policies centered on the development of strategies for poverty reduction. Limited justice then becomes more than an issue of inequality, but also an issue of poverty.
Discrimination can be a result of poverty and also an obstacle for ending global poverty. According to Human Rights Watch, two thirds of those living in poverty in low income nations reside in households led by an ethnic minority group specific to that country.
Lack of basic access to education due to discrimination, for example, serves as an important contributor and obstacle standing in the way of alleviating global poverty. According to Social Watch, a report revealed that among those who are illiterate, a vast majority belong to ethnic, religious or racial minority groups. Additionally, due to economic and social inequalities, minority groups are more likely to become exposed to health issues such as infectious disease.
The link between discrimination and poverty suggests that in order to completely eradicate global poverty, inequalities due to discrimination need to be addressed. Protecting minority groups from discrimination can help alleviate the number of people who fall or get trapped into poverty solely because of race, gender, ethnicity, religion or any other characteristic. Amending laws that pose a threat to minority groups as well as enacting laws that fight discriminatory policies can be a means of reducing discrimination, which will ultimately alleviate poverty.
– Nada Sewidan
Photo: Burma Times
Sources: Human Rights Watch, Social Watch
https://borgenproject.org/wp-content/uploads/logo.jpg
0
0
Borgen Project
https://borgenproject.org/wp-content/uploads/logo.jpg
Borgen Project
2015-03-30 08:00:51
2017-11-30 11:02:26
How Discrimination Affects Global Poverty