How Cuddle+Kind Feeds Children in Need & Empowers Women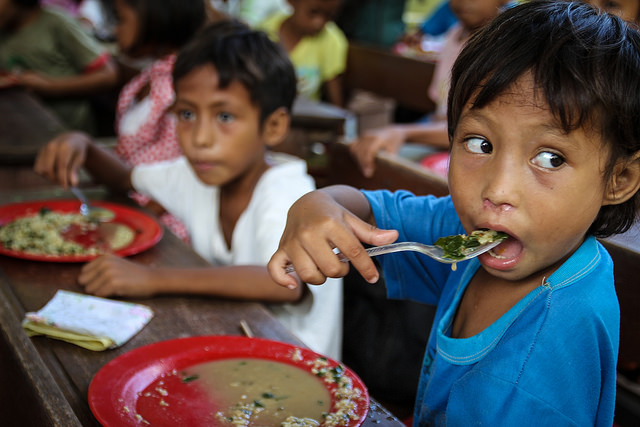 A fast-growing social business, Cuddle+Kind feeds children in need by donating ten meals for every handknit doll sold and empowers female Peruvian artisans through fair-trade jobs.
A Global Need for Food
One in seven people worldwide are hungry, and one in nine do not have enough food to lead a healthy, active lifestyle. A reduced diet causes 45 percent of deaths in children under five, which adds up to 3.1 million children every year.
Cuddle+Kind, founded by Derek and Jennifer Woodgate, was created with the aim of reducing these numbers and feeding hungry children around the world. The couple was inspired by their three young children and how heartbroken they would be if they could not feed and provide for them. The Woodgates have a background in health, so they understood the important role that nutrition plays in a child's life.
The couple spent a year establishing partnerships with artisans in Peru and designing the dolls. Dolls in all different types of animals are available, including dogs, foxes, cats and bunnies. Each comes with a unique name and personality. Cuddle+Kind officially launched in September 2015 on the crowdfunding website Indiegogo.com. In just seven weeks, the company sold enough dolls to donate 163,543 meals.
How Cuddle+Kind Feeds Children
Since its beginning, Cuddle+Kind has moved to its own website but maintains the same mission of providing ten meals for every doll sold. The company aims to provide one million meals to children in need every year. The meals are provided through several partnerships with nonprofits, including the World Food Program, the Children's Hunger Fund, the Breakfast Club of Canada and several orphanages in Haiti. Through these organizations, Cuddle+Kind feeds children around the world and has donated more than 4,452,292 meals since 2015.
Proper nutrition leads to an increase in school attendance and improved educational performance. Girls have higher school attendance when food is not an issue. Additionally, a child's psychosocial and emotional development has been linked to proper diet and eating habits. Children who are not fed regularly do not develop the same bonds with a caregiver that is typically established. When a family or community shares a meal there is a social component that a child is exposed to and learns from. As Cuddle+Kind feeds children, it provides them the ability to reach higher academically and grow to be stronger, more capable people.
Empowering Women in Peru
In addition to improving the lives of children, Cuddle+Kind empowers women in Peru by providing them sustainable, fair-trade income for creating the dolls they sell. The business has created over 500 jobs for Peruvian artisans, which is needed in a country where only 39.6 percent of women work in wage or salaried positions as compared to 50.1 percent of men.
Being a socially-minded organization, Cuddle+Kind feeds children with the motive of continually improving the world. As a business that works for the good of children in need and emboldens creative women, Cuddle+Kind is blazing a path of kindness and generosity that will have unending benefits for those they reach.
– Sarah Dean
Photo: Flickr
https://borgenproject.org/wp-content/uploads/logo.jpg
0
0
Borgen Project
https://borgenproject.org/wp-content/uploads/logo.jpg
Borgen Project
2018-07-08 07:30:25
2019-09-25 12:23:32
How Cuddle+Kind Feeds Children in Need & Empowers Women