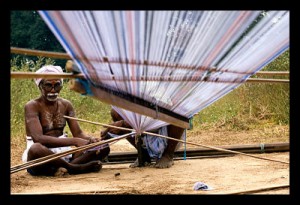 Cottage industries have faced many challenges over the ages from, at the time, the industrial revolution and now, globalization. Yet people living in rural areas even now often engage in small scale manufacturing activities like weaving, sewing and other artisanal crafts, to supplement their income. These activities need little investment and are usually conducted at home, sometimes passed on from generation to generation.
The benefits of cottage industries and other small scale enterprises are a no-brainer. Apart from productive income activities, they create an environment of lower income inequality and allow people to take control of their lives and bring earnings into their community. Most importantly, they generate gainful non-agriculture based employment for those who cannot find jobs elsewhere. They can play a surprisingly large role in improving a nation's economic standing. In addition to general poverty alleviation programs, developing cottage industries is an approach that can boost the rural economy and diversify its production.
In spite of its benefits, cottage industries struggle to survive under the pressure of globalization. Their products are unable to compete with the cheap goods of efficient production. Lacking the marketing savvy to advertise their products and safeguard their interests, these entrepreneurs lose out on the global playing ground. On the flip side, globalization also opens new markets and increases demand for products of all kinds, ranging from tourism to uniquely embroidered textiles and crafts. Indian handicrafts export alone has grown from Rs. 10 crores in the fifties to over Rs. 4000 crores in the post globalization era in 1991.
What can be done to help the cottage industry thrive, even in the face of globalization? The main issues that face cottage industries in most countries are the same—lack of finance, infrastructure and an easily accessible method to advertise and sell their products. In Myanmar (Burma), 80 percent of cottage and small enterprises mentioned access to finance as a major roadblock to their operations. Microfinance and development banks play a critical role in alternative financing. In India, the MSME Act of 2006 was launched specifically to improve the development of such industries. They manage cluster development where groups of cottage industries can train and sell their products together, in addition to mandating stricter penalties for delays in payment by banks to cottage industries.
Cottage industry clusters promote employment, local capacity and collective power for small entrepreneurs. UNIDO cluster development program in India addresses all these issues, increasing productivity of the units by 15 to 20 percent by providing basic machinery, increasing market linkages, profit margins and empowerment of women artisans. Fluency in English, improved marketing skills, vocational training and access to raw materials can help small domestic business broaden their customer and product base. The scope for involvement of community service organizations and business associations in working towards this goal is large. The U.S. Food and Agriculture Organization supports women's cooperatives in the war torn West Bank and Gaza strip in training in food processing, providing small equipment to aid their manufacturing and a centralized point of sale where they can get a constant market.
So far cottage industries have been focusing on products and services that have high demands and markets. However, the scope for such small community organizations in environmental, health and other sectors is also large. An exciting example of this is solar systems as a cottage industry. Dr. Richard Komp, Director of Maine Solar Energy Association, has been building solar cottage industries across South America and Africa. He teaches people how to build solar collector arrays from factory second photovoltaic cells that can be used for things like solar cookers and thermal systems. Cottage industries can accomplish so much given the right support and infrastructure.
– Mithila Rajagopal
Sources: FAO, Government of Odisha, Ministry of Economic Affairs, Bhutan, Ministry of Micro, Small and Medium Enterprises, Royal Thimphu College, Solar Array, Social Science Research Network, UNIDO 1, UNIDO 2
Photo: Wikimedia
https://borgenproject.org/wp-content/uploads/logo.jpg
0
0
Borgen Project
https://borgenproject.org/wp-content/uploads/logo.jpg
Borgen Project
2015-04-07 04:00:40
2020-07-03 08:33:30
Cottage Industries