Cost of Living in Thailand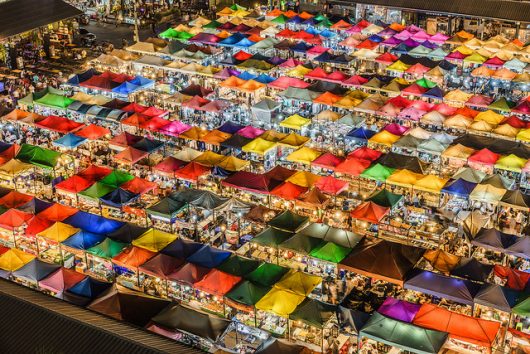 Thailand is one of the most popular countries in the world for expatriates. While the beauty of the natural environment is crucial, another important reason is the relatively inexpensive cost of living. In 2015, the International Living Magazine rated Thailand as the 10th best country in which to retire. While Thailand has experienced remarkable economic growth over the past few decades, the cost of living in Thailand still remains relatively low. According to Numbeo, an international price comparison website, the cost of living in Thailand is 36.73 percent lower than in the United States, and rent in Thailand is 58.53 percent lower than in the United States.
Public transportation
A bus fee ranges from approximately THB 8 to 30, depending on the type of the bus. Since one Thai Baht is worth about $0.03, public transportation can cost less than a dollar. Tuk-tuks, the three-wheeled taxis that are common in the country, normally cost THB 40 to 100 for a short ten-minute ride, which is also highly affordable. The base fare for metered taxis is THB 35.
Housing
Cheap rental and housing prices also contribute to the low cost of living in Thailand. Numbeo states that an expensive one-bedroom apartment inside the City Center in Bangkok costs around THB 14,317 (equivalent to approximately $430), which is much cheaper than the rent in major U.S. cities.
Food prices
The food prices in Thailand are also much less expensive than those in most developed countries. For example, the prices of most popular grocery items are as follows: a loaf of bread costs $1.12, which is only half of its average price in the United States, Additionally, a dozen eggs costs $1.65, compared to the average price of $2.23 in the United States.
The street foods are also known for their affordability. A simple meal consisting of rice, vegetables and meat on a single plate ranges from approximately THB 30 to 50, which equals to just more than one dollar. A fancier meal with a selection of dishes that may often include an entire fish would cost from THB 60 to 200 ($2 to $6).
The aforementioned factors are main contributors to the low cost of living in Thailand. However, the high possibility of continued economic growth would gradually increase the cost of living in Thailand.
– Minh Joo Yi
Photo: Flickr
https://borgenproject.org/wp-content/uploads/logo.jpg
0
0
Borgen Project
https://borgenproject.org/wp-content/uploads/logo.jpg
Borgen Project
2017-08-06 01:30:59
2020-06-09 10:17:45
Cost of Living in Thailand