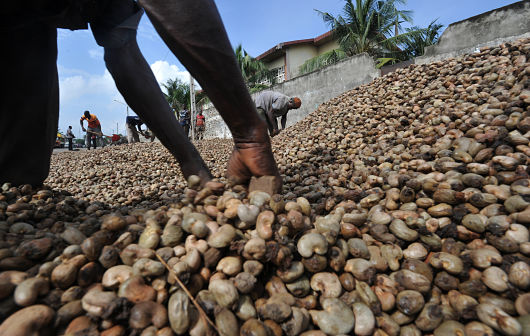 In central and northern Côte d'Ivoire, cashew nut farming has drastically improved the lives of small scale farmers.
Since the 1960s, cashew farming has replaced other popular West African cash-crops like cocoa beans, rubber and cotton since cashews generate a much larger profit. Local farmers say that their farms are where "money grows on trees," according to How We Made It in Africa.
"These farmers don't grow cocoa like elsewhere in the country. Cashew nut is the only cash crop they can rely on all-year-round. So, it is understandable that they would refer to their orchards in this way," explained Ga Kone of the Conseil du Coton et de l'Anacarde, the Council of Cotton and Cashew (CCA), in an interview with Africa Renewal.
In 2014, Côte d'Ivoire was responsible for the production of 550,000 tons of raw cashews, or 22% of the total global production of cashews. At the end of the 2015 harvesting season, experts expect that Côte d'Ivoire will produce 600,000 tons.
CCA, the cashew farmer's marketing board made up of government representatives, farmers and bankers, estimates that Côte d'Ivoire's annual production has grown at a rate of 11% per year. A combination of factors have enabled Côte d'Ivoire's recent success. The hardiness of the trees and the increase in global demand for cashews are two main reasons.
Cashews were initially introduced to Côte d'Ivoire and West Africa in the early 1960s to prevent desertification and soil erosion. The evergreen tropical trees can grow up to 12 meters high and are able to survive in harsh weather and soil conditions. Environmentalists often recommend cashew trees for reforestation programs, and the trees were planted to create protected forest areas.
When Côte d'Ivoire first began to produce cashews, the country only generated around 300 tons of cashews annually, and production remained at this rate for around 30 years. In 2002, production reached 100,000 tons.
"The growth is more than impressive. It's astounding. We've never seen a country grow its production in the way Côte d'Ivoire has over the past decade," said Jim Fitzpatrick, a cashew expert, to Reuters last year.
Despite the country's cashew-driven economic boom, Côte d'Ivoire still has room for even greater improvement and the potential to generate much more income. The processing of raw cashews enables farmers to sell the cashews for a significantly higher price. Côte d'Ivoire currently only processes 40,000 tons of cashews locally, while it has the potential to process 65,000 tons.
African countries produce 45% of the total global production of cashews, or 1.2 million tons each year. Only 10% of this production is processed locally, says the African Cashew Initiative, which is funded by the German government, private companies and the Bill & Melinda Gates Foundation. If Côte d'Ivoire begins to process its cashews, there is the potential to increase profit by $127 million—if it processes 100,000 tons by 2020.
Currently, the processing that does occur is rudimentary; it usually is simply sorting whole nuts and broken nuts and then placing them into separate sacks for export.
If this West African nation begins to process all of its cashew nuts and then export them, the economic potential is immense. A study by CCA found that for every 100,000 tons of processing the country implements, 12,300 factory jobs and 10,000 other jobs will be created.
Many regions of Côte d'Ivoire remain entrenched in harsh poverty. In the Zanzan District in the northeastern region of the country, the poverty level is among the highest in the country. Six out of 10 people live below the poverty line—they cannot afford a daily kilogram of rice while 75% do not have access to sanitary drinking water.
Côte d'Ivoire has experienced incredible economic stimulation with its recent cashew boom—by committing to process its cashews locally, the country has the potential to alleviate regions still entrenched in poverty.
– Margaret Anderson
Sources: How We Made It in Africa, Reuters, African Cashew Alliance
Photo: African Business Magazine