Building Toilets in India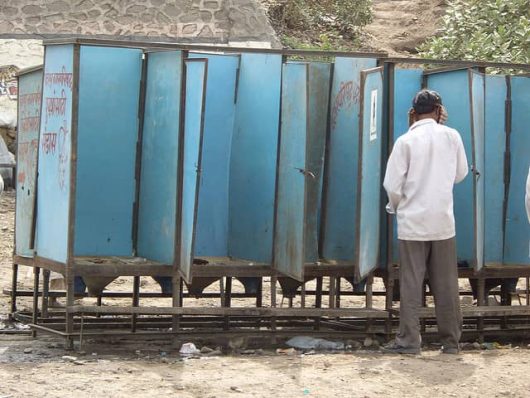 Known as the home of the magnificent Taj Mahal and the world's largest democracy, the subcontinent of India lies in South Asia and borders both Pakistan and China.
Although India has significantly improved its infrastructure and is now one of the world's fastest growing economies, much of the population continues to lack access to basic sanitation facilities such as toilets and clean running water. An astounding 500 million people in India resort to open defecation, accounting for 60 percent of the world's population who do so. Unexpectedly, an Indian romantic comedy aptly named "Toilet, a Love Story" has been instrumental in pushing the need for building toilets in India into the spotlight.
With a renewed focus on providing more access to toilets, Narendra Modi, India's Prime Minister, has promised to build 100 million new toilets across the country. Additionally, he started a new cleanliness initiative called Clean India mission in 2014 that will attempt to make India open defecation-free by 2019. According to the Indian government, 47 million toilets have already been built in rural villages and public areas, but many have criticized the program for its many failures. New toilets are being built around the country so rapidly that many of them are not even connected to running water, rendering them dirty to the point that few use them. The Indian government must focus on adding additional sewage systems throughout the country in order to properly handle the increase in toilets.
Even if toilets are built, there needs to be an entire shift in mindset before open defection will stop. For many Indians, having a toilet inside a house is considered an unclean practice, so there needs to be tangible steps taken to confirm that the newly built toilets are actually being used. Educating communities, particularly rural ones, about the undeniable health benefits of utilizing toilets, is a worthwhile pursuit. With many families using toilets as a store house for fodder, India's government must dedicate time and resources to bringing the serious harms of open defecation to the forefront of public health issues.
The lack of basic sanitation often leads to epidemics of dangerous diseases, including potentially fatal ones such as cholera, which are spread through fecal matter. Furthermore, water sources and crops are commonly contaminated by open defecation, but many lack the awareness or the resources to properly clean their food and water before consuming it, leading to thousands of deaths every year. In addition to the need for a larger effort into raising awareness of the benefits of building toilets in India, resources need to be invested into infrastructure for waste management.
Also, the lack of sanitation facilities has proven to be an issue for women's rights and human dignity. Without access to toilets, women in rural villages are often forced to travel in groups and are only able to relieve themselves before the sun rises in order to ensure their safety. Unfortunately, these groups of women are often met with verbal and sometimes physical abuse. Sexual assault remains a frighteningly common occurrence for Indian women who are forced to relieve themselves in open fields.
Several studies have shown that lack of access to private toilets frequently make women significantly more susceptible to sexual violence. According to a senior police officer in the state of Bihar, about 400 women were raped while they relieved themselves outside simply because they did not have access to a private toilet. Rapidly and effectively ending open defecation must be of the utmost urgency, as millions of Indian women continue to endure vicious sexual violence on a daily basis.
With toilets being a taboo subject in India, there are undoubtedly serious obstacles to be overcome if India wishes to end open defecation, which is linked to sexual violence and the spread of disease. "Toilet, a Love Story" has gone a long way in helping Indians openly discuss and raise awareness of the dangers of continuing to avoid building toilets in India. If there is to be lasting success, the Indian government must prioritize shifting the public's mindset away from believing that toilets are unclean as well as build an accompanying sewage system alongside the new toilets.
– Akhil Reddy
Photo: Google
https://borgenproject.org/wp-content/uploads/logo.jpg
0
0
Kim Thelwell
https://borgenproject.org/wp-content/uploads/logo.jpg
Kim Thelwell
2017-09-29 01:30:39
2020-07-16 21:49:52
Building Toilets in India