BEHR Initiative Brings Hope to Kenyan Refugees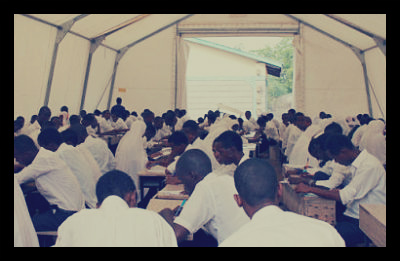 The Dadaab refugee camps in northern Kenya are now home to approximately 500,000 people, making them the largest refugee complex in the world.  Located closely to Somalia, where most of the refugees come from, Dadaab is occasionally a dangerous place.
Regardless of location or conditions there is access to primary and secondary education and now there will be access to tertiary education with the help of a new pilot program called Borderless Higher Education for Refugees, or BEHR. The United Nations refugee agency estimates less than one percent of refugees around the globe are enrolled in higher education. Now, fortunately 400 students in the Dadaab camps will be given that chance.
The first round of 400 students is made up of 17 percent female, but the hope is that the next round of students will be 40 percent female. These students will have the ability to earn accredited diplomas in teaching as well as a chance to earn university degrees in subjects including community health, development, business and natural sciences, according to the New York Times. The funding is currently in place for the second unit of students to start the program next August.
Despite the fact that Kenyan law does not allow refugees to have formal jobs within the camps, participants in BEHR are able to hold what are known as "incentive" positives in the camps for teaching and community health services. The New York Times also reports that the idea of bringing university education into refugee camps grew from a long-term scholarship program run by the World University Service of Canada, which has offered scholarships within Canadian universities to 1,350 refugees from around the world during the past 35 years.
In regards to BEHR, Wenona Giles, a professor at York University in Canada stated that, "We knew it would be big in terms of resources, organization and thinking. We are going to be offering degree programs and that had not been done before, so that took a lot of chutzpah." She also highlighted that through the program it is possible for its graduates to not only be qualified as teachers, but also positioned to go on to advanced university degrees which are important for jobs in fields like community health and development.
The BEHR program gives the refugees in the Dadaab camp a chance to gain a new perspective on their lives, a chance to graduate from school and the hope as well as knowledge to be able to one day possibly go home to Somalia.
– Lindsey Lerner
Sources: UNHCR, New York Times
https://borgenproject.org/wp-content/uploads/logo.jpg
0
0
Borgen Project
https://borgenproject.org/wp-content/uploads/logo.jpg
Borgen Project
2014-01-14 21:46:43
2014-01-14 21:46:43
BEHR Initiative Brings Hope to Kenyan Refugees