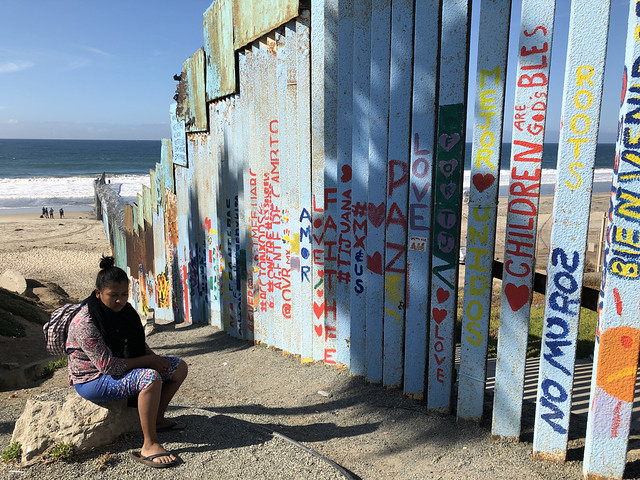 More than 4,000 asylum seekers in Tijuana have written their names on a waitlist in hopes of presenting themselves at the U.S. port of entry. It is unclear how the list began since the U.S. government doesn't claim jurisdiction and neither does Mexico. Regardless, the waitlists are followed and migrants' names are slowly crossed off as they are brought to state their cases. Most asylum-seekers are from Honduras, El Salvador and Guatemala, many of whom are fleeing gang violence, political instability and extreme poverty. Al Otro Lado and other nonprofits are helping the migrant crisis.
The Migrant Crisis
Central Americans from the caravan have been labeled everything from refugees, asylum seekers and economic migrants to invaders, aliens and criminals. However, despite widespread disagreement and confusion about the caravan, U.S. immigration and international laws dictate that people have the legal right to seek asylum. Asylum seekers' have the right to present their cases to an immigration officer, but with so many asylum-seekers to process, thousands of individuals and families are left waiting in limbo.
As Policy Analyst at the American Immigration Council Aaron Reichlin-Melnick explains, "The government would argue that high [asylum] denial rates indicate they're fraudulent asylum claims… the more likely answer is that people are genuinely afraid for their lives–they may not know the ins and outs of a complex asylum system." For many nonprofits, the situation is clearly a refugee crisis, and they treat it like one. Since caravans began arriving at the border, humanitarian organizations have been on the ground providing shelter, medical care and legal assistance. This is one way that Al Otro Lado is helping.
Al Otro Lado
Al Otro Lado is a legal services nonprofit based in Los Angeles, San Diego and Tijuana. Over the last four months, Al Otro Lado has helped more than 2,000 migrants in Tijuana while also fighting larger battles to protect the legal rights of asylum seekers. Operating out of an Enclave Caracol, a three-story community center turned migrant shelter, Al Otro Lado provides legal orientation and know-your-rights training to asylum seekers waiting in Tijuana.
Though Al Otro Lado is focused on upholding international and U.S. law, it is not immune to the controversy and violence that has accompanied the migrant caravan. The organization and its staff have received death threats, and co-directors Erika Pineiro and Nora Phillips were detained and forced to leave Mexico in January. Still, Al Otro Lado continues their operations in Tijuana, but now they just unplug their phones between calls to cut down on the death threats.
Other Notable Organizations Helping the Migrant Crisis
Organizations like Al Otro Lado, Save the Children and Amnesty International see the migrant caravan as a humanitarian issue beyond party politics. They have wasted no time supporting migrants and asylum-seekers who have risked their lives journeying to the border. However, unless governments and organizations address the larger issues that led the people to leave in the first place, they will continue migrating. Faced with violence, persecution and poverty, it's hard to imagine anyone who wouldn't do the same.
– Kate McIntosh
Photo: Flickr
https://borgenproject.org/wp-content/uploads/The_Borgen_Project_Logo_small.jpg
0
0
Kim Thelwell
https://borgenproject.org/wp-content/uploads/The_Borgen_Project_Logo_small.jpg
Kim Thelwell
2019-04-26 01:30:35
2019-04-23 19:45:53
Al Otro Lado and Other Nonprofits Helping the Migrant Crisis