African Urbanization: Economic Boom or Crisis in Waiting?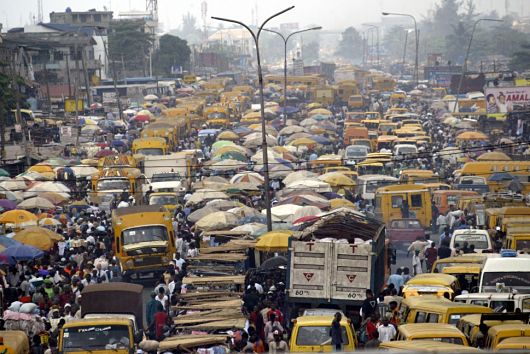 More and more young Africans are picking up their possessions and leaving their rural villages for lives in the big city. And while this influx of migrants is creating a new wealth of potential laborers for Africa's generally growing economy, the sheer number of new residents is causing housing prices in cities to skyrocket.
According to an article by Gant Daily, a CNN News affiliate, UN-Habitat estimates that by the year 2030, more people in developing regions will live in urban than rural environments. The UN-Habitat report specifically highlighted Sub-Saharan Africa as an affected region.
With so many young people uprooting themselves for city life, it appears to be a good sign that the African economy is growing and more jobs are consistently being created to retain the influx of immigrants. Unfortunately, most major Sub-Saharan economies are facing a serious housing shortage. Some cities, according to a survey by the Ministry of Lands and Housing, are estimated to face a housing deficit of two million units in the next 10 years.
This high demand and low supply has made city slums an even bigger issue than before. And even among nicer accommodations, living and office space is in such high demand that landlords can demand exorbitant prices.
The upwardly mobile youth are not just moving to cities seeking better jobs and improved housing conditions. As the average income of African youth increases, educated and career-focused individuals are moving to cities looking for ways to spend their disposable income. This means that, in addition to an increased demand for additional housing, there is also a demand for better infrastructure and better retail and commercial opportunities, according to an article by AFK Insider.
While the dramatic housing deficit facing rapidly burgeoning African economic centers could be a recipe for disaster, it also presents an excellent economic opportunity for investment in the real estate and development sectors.
According to AFK Insider, Africa as a whole saw a 46% increase in investment in the construction, transportation and energy projects sectors in 2014; Central Africa alone experienced a 117% increase in the value of construction projects.
Investment in constructing additional affordable housing, improving infrastructure and expanding business opportunities stimulates the economy through job expansion and the creation of a wider consumer marketplace. It is a proven trend that, as people's quality of life improves, they spend more, thereby inject more money into the economy.
Africa's urbanization boom may soon lead to its largest economic boom in centuries, and to a new and better quality of life for Africa's poorest.
– Gina Lehner
Sources: Gant Daily, AFK Insider
Photo: NEO
https://borgenproject.org/wp-content/uploads/The_Borgen_Project_Logo_small.jpg
0
0
Borgen Project
https://borgenproject.org/wp-content/uploads/The_Borgen_Project_Logo_small.jpg
Borgen Project
2015-07-20 11:28:18
2020-07-09 20:17:46
African Urbanization: Economic Boom or Crisis in Waiting?