Afghanistan's Rule of Law and Future Can Flourish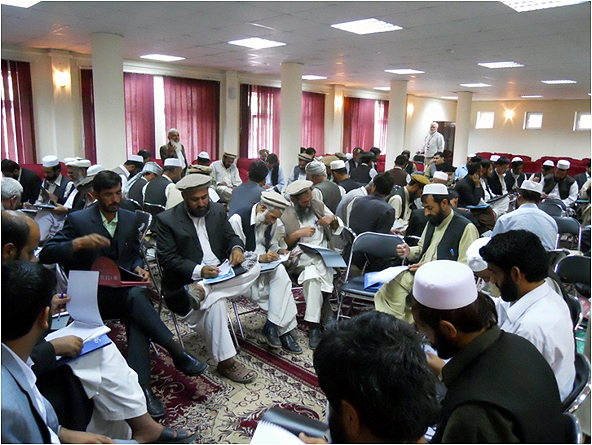 Afghanistan is one of the most dangerous and impoverished nations in the world. What can be done to help to turn it around?
One of the biggest problems Afghanistan faces is its history of a weak rule of law. The rule of law has to do with the strength of legal institutions, as well as laws themselves. It also applies to how laws are carried out—equally or unequally.
When the rule of law is strong, it provides a basis for a society's economic development, security, infrastructure and an accountable government. A strong rule of law also improves public health, alleviates poverty and improves education.
Weak rule of law leads to crime, corruption and the unequal application of laws across a society. Afghanistan has struggled with all these things, and improving and solidifying the rule of law is important to secure its future. For a country to flourish, a strong rule of law is needed.
It is a generally accepted idea, that for some, education is a pathway out of poverty. However, without a strong rule of law, which limits the Taliban preventing girls from going to school or corruption from impacting learner's education, this pathway is fraught with difficulties. Corruption is a massive problem in Afghanistan—the country ranked last for the absence of corruption in the World Justice Project's 2014 Rule of Law Index.
Sadly, the problem runs deeper than merely educating Afghan girls and boys with hopes that they will escape poverty. For Afghanistan to improve its rule of law and therefore it's future, it's legal education system must continue to be developed.
Because of Afghanistan's five constitutions since 1964 along with Soviet occupation and the Taliban government, the country's legal system been decimated and fallen behind the rest of the world. The legal education system has failed to produce a capable body of legal experts, instead a group of jurists who have made their best effort in recent times but are woefully unprepared.
Since U.S. military intervention and the fall of the Taliban in 2001, much has been done to try and improve both the university and legal education systems in the county. Strengthening these institutions can lead to fewer instances of land disputes—the main cause of conflict in Afghanistan. They are common because both informal and formal devices used to resolve the conflicts are fragile and weak.
Land disputes are also a perfect example of a weak rule of law because they illustrate an instance where a law says one thing, but in practice, it is not relevant, enforced or practical. The current land ownership law states the need for documents proving ownership of land, however, only 20 percent of land actually has these documents.
The U.S. State Department has played a role in developing the legal system in Afghanistan by bringing young lawyers to the U.S. to study, who have then gone back to their home country to set up legal practices. This is a good step, but improvement in the rule of law via more development of the legal education system in Afghanistan itself could go even further to improve its future as a safer, less impoverished country.
– Greg Baker
Sources: The Hague Institute for Global Justice, The New York Times, United States Institute for Peace, The World Justice Project, U.S. Department of State
Photo: Clarksville Online
https://borgenproject.org/wp-content/uploads/The_Borgen_Project_Logo_small.jpg
0
0
Borgen Project
https://borgenproject.org/wp-content/uploads/The_Borgen_Project_Logo_small.jpg
Borgen Project
2015-06-17 21:21:27
2020-07-15 17:50:25
Afghanistan's Rule of Law and Future Can Flourish