Six Things to Know About Poverty in Pakistan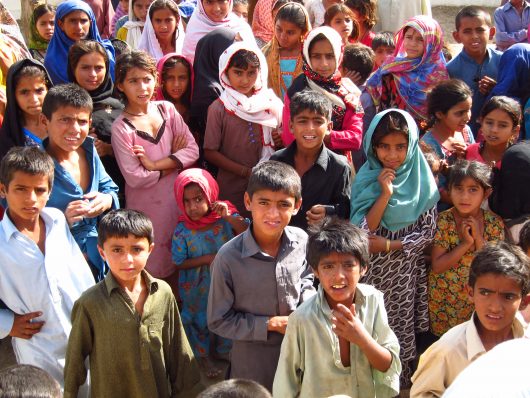 Poverty is a global affliction affecting numerous countries in the developing world. Pakistan, a country in South Asia, is home to millions of people who live in extreme poverty. Poverty in Pakistan is on track to decrease, but there is still work to be done.
With approximately 185 million citizens, Pakistan ranks 147th out of 188 countries in the Human Development Index (HDI). Reports on poverty in Pakistan show that as much as 40% of the population–roughly the size of the population of Florida, California and New York combined–live beneath the poverty line.
The Multidimensional Poverty Index (MPI) report by the Pakistan Ministry of Planning, Development and Reform in June 2016 shows that 39% of Pakistanis live in multidimensional poverty. The MPI methodology, developed by UNDP and the Oxford Poverty and Human Development Initiative in 2010, uses a broader concept of poverty by reflecting people's deprivations related to health, education and standard of living in addition to income and wealth.
1.  Regional and Provincial Disparities in Poverty in Pakistan
The report states that national poverty rates in Pakistan fell from 55% to 39% from 2004 to 2015. This is a strong decline; however, development across different regions of the country is uneven. Poverty in urban areas is at 9.3% as compared to 54.6% in rural areas. Similarly, great disparities exist across provinces, with the highest rates of poverty in the Federally Administered Tribal Areas (FATA) and Balochistan. The MPI report states that "over two-thirds of people in FATA (73%) and Balochistan (71%) live in multidimensional poverty. Poverty in Khyber Pakhtunkhwa stands at 49%, Gilgit-Baltistan and Sindh at 43%, Punjab at 31% and Azad Jammu and Kashmir at 25%."
Some districts such as Qilla Abdullah, Harnai and Barkhan in Balochistan have more than 90% poverty compared to Islamabad, Karachi and Lahore, in which less than 10% of residents live in multidimensional poverty. The report also found that the decrease in multidimensional poverty in Balochistan was the slowest while poverty levels had actually increased there and in Sindh province in the past decade.
2. Corruption in Pakistan
Despite being the second-largest economy in South Asia, development is limited by entrenched poverty in Pakistan, social inequality, lack of access to social services and extreme corruption. The 2016 Corruption Perceptions Index by Transparency International ranks Pakistan 116th globally. Corruption in Pakistan is not a new phenomenon. Recent Panama leaks involving the Pakistani Prime Minister Nawaz Sharif's three children are just one example: they owned offshore companies and assets not shown on his family's wealth statement. This and other cases of corruption by political and military elites have made it impossible to alleviate widespread poverty.
3. Population Boom
Burgeoning population growth is another major issue that weighs down Pakistan's socio-economic development. According to some reports, in the past 10 to15 years, the population of Pakistan has grown by more than 40 million, making it the sixth most populous country in the world. Another report found that Pakistan's population increases by 1.8% per year. By that rate, it is feared that, if the nightmarish growth goes unchecked, the country's population will be 245 million by 2030.
4. Development and Conflict
Pakistan is caught between the United States' War on Terrorism in Afghanistan and an increasingly unstable relationship with India. Tackling poverty is important because economic instability and a lack of development can only lead to conflict and violence, domestically and regionally. In the past two decades, Pakistan has seen increasing violence at the hands of militant jihadists and Baloch insurgents. Rather than bettering the lives of common people by introducing broad-based socio-economic reforms, the Pakistani state uses excessive military force to "resolve" issues in the country's northern and southwestern regions. Unending conflicts are another reason why it is difficult for development to take place.
5. Disproportionate Defense Spending
Most importantly, instead of allocating sufficient funds to address both acute and long-standing poverty, the country spends the largest amount of national expenditures on defense. A May 2017 report showed that "Pakistan's defense expenditure in the next financial year (2017-18) will be around seven percent higher than it was in the outgoing year to Rs920.2 billion (USD$8.65 billion)." It was Rs841 billion (USD$7.9 billion) for the year 2016-2017. In contrast, Pakistan spends only 2.6% of its GDP on education, which is the lowest in South Asia.
6. Consequences of Poverty in Pakistan
Grinding poverty and lack of development fuel child labor, illiteracy, religious extremism and endless conflicts on massive scales. The Gross National Income per capita is only $5,031. Life expectancy in Pakistanis at 66.4 years and the expected years of schooling is miserably low at 8.1 years. These figures are among the lowest in the world.
The good news is that poverty in Pakistan decreased by 15 percent in the past decade, but, given the grim lows overall, this figure is less than encouraging. In order to alleviate poverty, policymakers need to focus on achieving the U.N. Sustainable Development Goals (SDGs) by 2030. Although it is a big challenge for an underdeveloped country like Pakistan, meeting the SDGs is important since they provide the best possible integrated way for inclusive growth, peace and development.
Finally, policymakers should also focus on addressing the poverty of opportunity. The poverty of income is a result of the poverty of opportunity. Poverty in Pakistan is a multidimensional problem requiring multidimensional solutions.
– Aslam Kakar
Photo: Google
https://borgenproject.org/wp-content/uploads/logo.jpg
0
0
Borgen Project
https://borgenproject.org/wp-content/uploads/logo.jpg
Borgen Project
2017-07-28 01:30:50
2020-06-25 07:12:17
Six Things to Know About Poverty in Pakistan